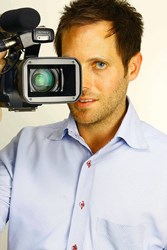 Ellick's riveting programs offer many new revelations into the strength, struggles and spirit of humanity.
Newton, MA (PRWEB) January 14, 2014
Malala Yousafzai has become a worldwide symbol for educational equality and the fight against oppression. Malala's commitment to pursue her education in the Taliban controlled area of Pakistan's Swat Valley became the inspiration behind New York Times journalist Adam Ellick's documentary, Class Dismissed: Malala's Story. In 2009, Ellick became one of the only Westerners to build a close bond with Malala and her family as he created his groundbreaking film about a young girl's struggle to attend school.
Now, Ellick is sharing his intimate story of Malala and her struggle through a series of exclusive speaking engagements with American Program Bureau. A true modern day journalist, Ellick uses his knowledge and creative reporting to bring to life some of today's most talked about world events. Offering in-depth perspectives alongside stimulating multimedia presentations, Ellick captivates audiences as he speaks candidly about his six month journey with Malala, while touching upon the plight of oppressed peoples worldwide and the future of news reporting.
Ellick's riveting programs offer many new revelations into the strength, struggles and spirit of humanity. His dynamic delivery, inspirational voice and ability to go where few have been make him a popular speaker for educational organizations, women's rights associations and other groups looking for stories of perseverance and triumph.
Organizations wishing to book Ellick should contact American Program Bureau at 1-617-614-1600 for information on available dates and program topics. For more information on American Program Bureau, please visit http://www.apbspeakers.com. For a profile on Ellick, please visit http://www.apbspeakers.com/speaker/adam-ellick.
About American Program Bureau
Founded in 1965, American Program Bureau has long provided a platform for the voices behind the world's most inspiring stories. From civil rights activists to the nation's foremost journalists, APB speakers such as Nicholas Kristof, Sheryl WuDunn, Michael Eric Dyson and Dan Rather continue to promote thought-provoking discussions on social justice and the human spirit.
The global leader in the professional speaking industry, APB exclusively represents hundreds of speakers and serves thousands of clients worldwide. Today, APB represents the top thought leaders across the realms of education, public interest, business and entertainment, including Mikhail Gorbachev, Archbishop Desmond Tutu, Richard Branson, Wes Moore and JeffreyTambor, among others.
# # #