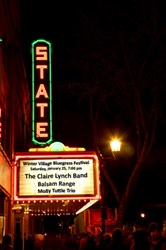 Hot music for the coldest month!
Ithaca, NY (PRWEB) January 15, 2014
This year, our headliner artists, the Claire Lynch Band and Balsam Range, are among the best bands in Bluegrass and Americana music. Claire Lynch is the 2013 IBMA Female Vocalist of the Year and Balsam Range has the 2013 IBMA Recording of the Year. Rounding out the Winter Village lineup is the Molly Tuttle Trio an exciting young trio from California by way of Boston and the Berkelee College of Music, Northern PA superpickers The Hickory Project, Jim Gaudet & the Railroad Boys, Chad Darou & Stealing Time, and Paris Texas featuring Bobby Henrie.
FEATURED EVENTS
Saturday Night Big Show at the State Theatre
We are excited to move the Saturday Night Big Show to the historic State Theatre of Ithaca. Enjoy festival headliners the Claire Lynch Band and Balsam Range, along with the Molly Tuttle Trio. Tickets for the concert cost $35 for Gold Circle Seats, $25 for reserved seating, and $20 for the Balcony Bleacher seats.
Dewitt Park Inn House Concert: Saturday, 1:00 – 4:00pm
The Dewitt Park Inn is hosting an intimate house concert on Saturday afternoon with the Claire Lynch Band, Jim Gaudet & the Railroad Boys, and Chad Darou & Stealing time from 1 – 4pm. Seating is limited to 60 festival weekend pass holders.
Dinner Music before the Big Show: Saturday, 5 – 6:30pm
Celebrate the 40th anniversary of the Moosewood Restaurant on Saturday, January 25 with Chad Darou & Stealing Time unplugged. Moosewood is kindly offering 10% discounts to ticket holders and is a Winter Village sponsor, feeding the Saturday Big Show performers with some of their fine vegetarian cuisine!! Or visit the newly restored Argos Inn for a happy hour unplugged performance by Jim Gaudet & the Railroad Boys.