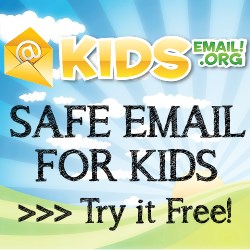 By taking the time to write a complete story, kids are exercising a wide range of skills.
Arbon, Idaho (PRWEB) January 15, 2014
KidsEmail, the safe and easy to use email service for kids, is extending the deadline for its first semi-Annual Young Author Competition. The new deadline is January 31st.
The reason for the extension is to give kids more time to complete their stories and to allow more kids to participate. The competition is open to kids from all around the world. Winners in each age group will have their book professionally illustrated and shared with all of the KidsEmail subscribers. You can find all the details about the Young Author Competition here: http://blog.kidsemail.org/2013/07/1040/.
KidsEmail's commitment to the social and educational development of kids in a safe environment is the motivation behind the Young Author Competition. Studies show that kids who are introduced to writing emails at an early age have far greater success as they advance in school.
By taking the time to write a complete story, kids are exercising a wide range of skills that include their imagination, writing complete thoughts, and editing what they write. Contestants are encouraged to write several stories and send in their best work.
Young Author Competition entry guidelines:

Contestants must be a registered user of KidsEmail.
Contestants can submit only 1 short story.
Contestants can choose the content of their short story.
The length of the story can be determined by the contestants. However, it must fit within the 15-page length of the completed book which includes illustrations.
The story must be e-mailed to: youngauthor(at)kidsemail(dot)org FROM the child's KidsEmail account.
Parents are encouraged to sign their kids up today by visiting http://www.KidsEmail.org. The deadline for the Young Author Competition has been extended to January 31, 2014.