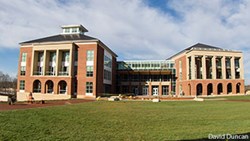 Lynchburg, VA (PRWEB) January 13, 2014
Liberty University will celebrate the grand opening of the $50 million, 170,000-square-foot Jerry Falwell Library — the university's largest investment in any one campus structure to date — with a ribbon-cutting ceremony on Wednesday, Jan. 15, beginning at 10 a.m. An expected audience of 400 invited guests — including local and regional leaders, members of Liberty's Board of Trustees, and supporters — will be in attendance. The library will then open to students and the public at 1 p.m.
Students will view the event live from the Vines Center during the first Convocation of the semester. The event will also be streamed live on the Liberty Channel.
On Wednesday evening from 7-8 p.m. in the library Terrace Conference Room, there will also be a special architectural design lecture featuring the architects from VMDO, a firm from Charlottesville that designed the library. This event is open to the public.
The new library is the first campus facility to bear the name of Liberty's founder, Dr. Jerry Falwell. With cutting-edge, interactive features, the building is designed to embody his vision of a world-class Christian university that trains Champions for Christ in all disciplines.
Highlights include a 24-by-11-foot media wall equipped with Microsoft Kinect movement recognition technology, pixel surface tables (oversized tablets), a technology commons with 160 computers, and interactive information kiosks. The library also features an Automated Storage and Retrieval System, a robotic book delivery system with a capacity for 420,000 items. Architectural elements include a four-story book tower, rooftop terrace, lakeside balconies, a floating staircase, and more than 30 group study rooms with fully writable walls.
Designed with more than 80,000 square feet of glass, the library features plenty of natural light and breathtaking views.
A two-story food court — the Tinney Café — features Pizza Hut Express, Starbucks, Tsunami Sushi, and Brioche Dorée (French bistro cuisine).
Faculty, staff, students, and guests have been invited to share the experience digitally by using #JFLibrary on Instagram and Twitter and by tagging "Liberty University" on Facebook.
For more information visit http://www.Liberty.edu/Library or follow LibertyULibrary on Twitter and Facebook.
About Liberty University
Liberty University, founded in 1971, is the largest private, nonprofit university in the nation, the largest university in Virginia, and the largest Christian university in the world. More than 100,000 students attend classes on its 7,000-acre residential campus and study in its thriving online education program.