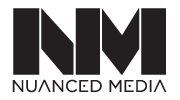 (PRWEB) January 14, 2014
Originally written by Nuanced Media developers in 2011, the WordPress Meetup plugin fetches event information from Meetup.com and creates posts for each event on organization websites. Additionally, the WP Meetup plugin provides an event calendar for displaying upcoming events either on a the organization page or as a widget. Organizations seeking to create a comprehensive calendar of events can collect events from multiple Meetup groups, making it easier than ever to aggregate and display events.
The WP Meetup Plugin 2.0. was officially released on December 30, 2013.
New to the revamped version of the Meetup Plugin is an entire page devoted to debug information. This debug snapshot provides information regarding design, group ID, metrics, and calendar updates to help with troubleshooting or reporting. In addition to the debug page, the Nuanced Media developers added an option for users to enter their email address for news about future WP Meetup plugin new version releases.
It's no wonder more than 7,000 people are using the Meetup plugin. Currently, people using Meetup website have to post twice for events; once to the Meetup site, and then again to their website. This plugin streamlines the process, simplifying the process.
Visit Nuanced Media Wordpress Meetup Plugin to download the plugin.
About Meetup.com:
Meetup is the world's largest network of local groups. Meetup makes it easy for anyone to organize a local group or find one of the thousands already meeting up face-to-face. More than 9,000 groups get together in local communities each day, each one with the goal of improving themselves or their communities.
Currently, Meetup has 15.81 million members and 140,479 groups in 196 countries. They offer visibility to 342,060 monthly meetups and handle 2.22 million monthly rsvp's. There are 2,545 meetups happening right now.
About Nuanced Media
Nuanced Media is a digital marketing and graphic design firm. The company specializes in strategic, multilayer marketing campaigns and efficiently crafted, user-friendly websites. Based in Tucson, the company has a variety of clients throughout Arizona, California, and Texas. For more information, please view Nuanced Media.