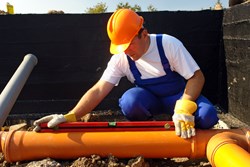 Burbank, CA (PRWEB) January 14, 2014
USA Business Insurance announces the expansion of customized business insurance packages with a brand new insurance liability policy tailored for plumbing contractors. The policy covers plumbers for bodily injury, property damage, premises and completed operations and several other areas with the potential for general liability claims.
The complete legal defense including any judgment that may arise from a lawsuit under a named coverage will be completely paid for. Despite the best intention of plumbers when they perform their work, lawsuits can and do occur.
For example, a homeowner might purchase a toilet and the installation service from a plumbing contractor. Everything appears ok until a few weeks after the install when the seal breaks causing a leak that damages carpeting and some furniture. The lawsuit sues the plumber who, during the course of investigating what happened, discovers that the toilet itself was faulty. Liability insurance will make the homeowner whole and not result in any out-of-pocket expense for the contractor.
"The risks and exposures inherent for a plumbing contractor are well known. The idea is for the contractor to protect their business with top-notch, reliable liability insurance customized for their profession," says USA Business Insurance. "The reality is that plumbers could lose their business or other assets because they lack solid insurance coverage."
This program is designed to meet the needs of hard-working plumbers. Priced to be affordable, The USA Business Insurance Plumbing Contractor General Liability Policy also provides policyholders peace of mind when it comes to dealing with any potential liability issues.
Along with general liability coverage, plumbing contractors can also obtain workers compensation, commercial auto and optional specialty liability coverages. This creates an insurance program that will protect against the sometimes staggering costs that can lead to financial disaster for small business owners.
About USA Business Insurance
USA Business Insurance provides a comprehensive suite of liability, professional liability and other programs specifically tailored for small business insurance portfolios. The company offers great rates, discounts and flexible payment plans.
For more information, visit http://businessinsuranceusa.com/plumber-insurance.