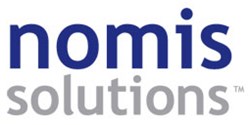 Our 100% renewal rate is testament to the value that Nomis brings to financial institutions that are looking to improve performance in an uncertain and challenging environment.
San Bruno, CA (PRWEB) January 14, 2014
Nomis Solutions today announced another year of market-leading growth for the company's pricing and profitability technology for financial services. Sales grew by over 100% compared to 2012, and the total volume of retail banking transactions optimized with Nomis technology expanded by over 90%. The increased adoption of price optimization was driven by a combination of new and existing customers. In 2013—for the fourth year in a row—Nomis enjoyed 100% subscription renewals, and current customers expanded their use of Nomis solutions to more portfolios throughout the US, Canada, UK, and EMEA.
Frank Rohde, Nomis Solutions CEO, commented, "As the economic outlook continues to improve, we added new customers in all of our market segments: mortgages, home equity, unsecured lending, deposits, auto finance, and payments. And our 100% renewal rate is testament to the value that Nomis brings to financial institutions that are looking to improve performance in an uncertain and challenging environment."
Rohde continued, "Forward-looking banks have accelerated their investment in big data and analytics, and the application of data science to pricing and portfolio optimization is one of the highest leverage areas. Our flagship Nomis Price Optimizer 4.4 leverages Hadoop to support the big-data demands of hundreds of millions of transaction details for thousands of customers and thousands of pricing cells. While it used to take days to forecast, simulate, and optimize pricing and marketing actions, it can now be done in seconds. And as interest rates rise, the ability to make real-time adjustments means a difference of hundreds of millions of dollars. This is critical for banking executives who need to manage deposit and loan portfolios profitably, and develop a deeper understanding of their customers."
Reflecting on the year and looking forward into 2014, Rohde commented, "We hired 35 people last year into our data science, engineering, and consulting teams. As adoption of our solutions continues to accelerate in 2014, we are looking to support our growth with more rock-star data scientists, product managers, engineers, and business consultants. It is a great time to work for a company with such advanced products and growth, and to be able to deliver highly valued customer benefits in today's and tomorrow's economic conditions."
Banks that are interested in learning how to leverage big data and advanced analytics for pricing and portfolio management are encouraged to attend the 2014 Nomis Forum, scheduled for May 28-29, 2014 in Half Moon Bay, CA.
Tweet this: News: @Nomis_Solutions sees strong demand for #Price #Optimization Solutions in Financial Services in 2013 #analytics #nomisforum #financial #banking #lending
About Nomis Solutions
Nomis Solutions provides best-in-class pricing and profitability technology for financial services companies. By combining a big data platform with advanced analytics, innovative technology, and tailored business processes, the Pricing and Profitability Management™ Suite delivers quick time-to-benefit, and improves financial and operational performance throughout the customer acquisition and portfolio management processes. With experience working on over 50 implementations in banking and finance, Nomis Solutions customers have optimized over $600 billion in banking transactions and generated over $600 million in incremental profits.
Headquartered in San Bruno, CA, Nomis Solutions also has offices in Toronto and London. Visit http://www.nomissolutions.com or contact us at info(at)nomissolutions(dot)com or 1-650-588-9800 or +44 0207 812 7251.