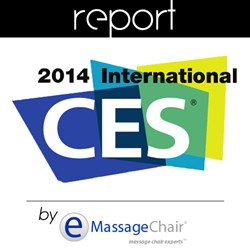 Emassagechair representatives also jumped in at each booth to help explain the different chairs, and help users better understand what was going on during the massage.
Las Vegas, Nevada (PRWEB) January 14, 2014
The 2014 CES had a lot of fun and exciting products to learn about. From Massage Chairs, to voice controlled cars, to the new curved TV's, many attendees found themselves completely exhausted. Luckily for convention goers there were a lot of ways to help unwind. There were a lot of booths set up to help people relax and distress, with products that included aromatherapy, handheld massagers, immersive relaxation, and most importantly massage chairs. From well-known brands to larger household names, below is a brief overview of some of the relaxation experiences that were offered at CES as detailed by Emassagechair.com.
Fujiiryoki brand massage chairs had there exciting booth set up, and was run by non other than their brand advocate Dr. Fuji. They had several chairs to try out, like their Japanese Made Fujiiryoki Cyber-Relax EC-3800, Cyber-Relax EC-3700, and a brand new chair called the Cyber-Relax EC-3600. In lieu of all the massage chairs there were also Vibration Plates, handheld massagers, and foot massagers to use. The booth also had a very high energy with music and people laughing and having fun. It was a very lively atmosphere and it attracted a lot of people to try their iconic chairs. It was difficult for many to jump into a chair but Fujiiryoki made sure to accommodate everyone interested in getting a massage.
Infinity Massage Chair also had a large booth offering a more tailored massage chair experience. They had one of their most popular models, the It-8800 in several different colors for people to try. This chair is similar to an older model called the It-8200. Their new Infinity Iyashi massage chair was not available to try but would have definitely garnered a ton of attention. Given the Iyashi's forward thinking design and long roller stroke, attendees would have been lining up to try this state of the art massage chair. Their It-8800 chair which was available for use, like their It-8500 is very popular for its ease of use. The Infinity staff working the booth were manned by infinity executives and sales staff that were very knowledgeable about their chairs. Attendees were steadily flooding their booth and from what it looked like the chairs were in use from the beginning to the end of the day. They also helped handcraft the experience by choosing specific functions and programs for each persons specific needs.
Panasonic also had a large massage chair presence with their EP-MA70 massage chair on full display. They had both colors, the Black and the Ice, available for people to try. The Panasonic EP-MA70 is their most high-end massage chair product and is still ahead of its time in features and functions. Panasonic makes very high quality products and this is very apparent in their Real Pro Ultra series which the EP-MA70 and EP-30007 are both a part of. The Panasonic booth had less energy than the Fujiiryoki and Infinity booths, but that didn't stop people from massaging their worries away mid day in their massage chairs.
Luraco Technologies was unveiling their new Luraco iRobotics 6S massage chair. Luraco who prides themselves on making their chair in the USA, has introduced a chair that is very comfortable and very thorough. They are a technology driven company and are constantly tinkering with new ideas, features, and functions to help improve the massage experience. Emassagechair had first hand experience testing out their blue tooth and Android App which gives users more control over many different functions, like intensity, and he timing of the massage. They had all of their different colors options there to look at, and their engineering team was there to help answer a wide variety of questions.
Inada the makers of the Inada Sogno Dreamwave chair had a different approach to showcasing their massage chair. Coined as the Worlds Best Massage Chair, they were letting attendees fully immerse themselves in the experience. Users were able to feel the full benefits of relaxation and full body massage. Attendees looked very comfortable in their Sogno chair, many actually looked like they were able to fall asleep. This is very impressive considering how stimulating and chaotic CES can be. Witnessing how popular Inada was at CES it's clear to see why the Sogno Dreamwave has been so successful with consumers.
The Massage Chair Experts at Emassagechair.com were also taking in all of the exciting electronics as well as learning about all of the other therapy and relaxation products that are being introduced. Emassagechair representatives also jumped in at each booth to help explain the different chairs, and help users better understand what was going on during the massage. The team at Emassagechair is very excited for all the new products available and will be learning and educating all their shoppers on the new massage and therapy products available. They invite shoppers to visit their store to learn more. They are also available by phone at 888.360.9996, by email at support-at-emassagechair.com, or by chatting with them online.