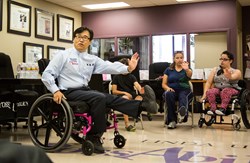 Loma Linda, Calif. (PRWEB) January 14, 2014
Loma Linda University PossAbilities has received national recognition from the American Hospital Association (AHA) as an example of an innovative hospital-based program that improves the quality of life of the population it serves.
LLU PossAbilities is one of only two hospitals from California featured in the ninth edition of Community Connections: Ideas and Innovations for Hospital Leaders, which recognizes hospitals that exemplify national best practices in one of four areas: meeting their community's social and basic needs; promoting community health; expanding access and coverage; and enhancing the quality of life of the people they serve.
The AHA publication, sent out each year to every hospital CEO in the nation, highlights innovative programs that demonstrate the various ways hospitals and health systems provide for and benefit their communities. A copy of the publication may be viewed at: http://www.ahacommunityconnections.org.
"We could not be more pleased to receive this honor," said Pedro R. Payne, manager of PossAbilities. "This is a great opportunity for hospitals across the nation to learn about how Loma Linda University Health is engaged in the health and wellbeing of our local community. Our hope is that more hospitals are able to replicate our program and expand their reach as they help to improve the quality of life of individuals with permanent disabilities."
PossAbilities is a community outreach program developed by Loma Linda University Center East Campus and supported by founding partner, the San Manuel Band of Mission Indians. PossAbilities' goal is to offer physically challenged people born with or have permanent physical injury a sense of community by offering activities and practical help.
The program offers a variety of activities and initiatives that offer support, education, and athletic endeavors to its members, including hosting the yearly PossAbilities Triathlon, an event joined in by thousands of able-bodied and challenged athletes; and Road to Rio, a training program for athletes hoping to compete at the 2016 Paralympics.
Photo Caption: John Kim (left) leads a free weekly stretching and exercise class for members of Loma Linda University PossAbilities. PossAbilities has received national recognition from the American Hospital Association (AHA) as an example of an innovative hospital-based program.
About Loma Linda University Health (LLUH)
Loma Linda University Health includes Loma Linda University's eight professional schools, Loma Linda University Medical Center's six hospitals and more than 900 faculty physicians located in the Inland Empire of Southern California. Established in 1905, LLUH is a global leader in education, research and clinical care. It offers over 100 academic programs and provides quality health care to 40,000 inpatients and 1.5 million outpatients each year. A Seventh-day Adventist organization, LLUH is a faith-based health system with a mission "to continue the teaching and healing ministry of Jesus Christ."
Contact: Herbert Atienza, Loma Linda University Health, 909-558-8419, hatienza(at)llu(dot)edu