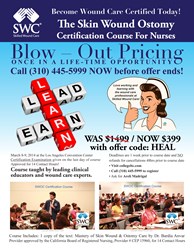 "Make the right diagnosis with Skilled Wound Care Physicians." - Dr. Bardia Anvar, M.D.
Los Angeles, CA (PRWEB) January 20, 2014
In its 2014 Annual Wound Healing Report, Skilled Wound Care has released patient healing data well above the national average in healing and incidence. Although current trends in the news suggest wounds in nursing homes are still poorly cared for, Skilled Wound Care and its partnering facilities have demonstrated above average healing times and outcomes. In keeping with trends across the country, the Skilled Wound Care program has instituted many programs such as gastrostomy tube care, to prevent needless re-hospitalization of patients and over-utilization of the health care dollar. Dr. Anvar, President of Skilled Wound Care, released the healing report today, with the primary finding of an overall 67% healing rate for nursing home patients. Findings also included a poorer incidence of healing for patients with vascular disease and related co-morbidities.
These findings have been helpful to patients and facilities, looking to determine how to better care for wounds and heal them. According to Dr. David Thomas as reported in McKnight's Long Term Care News and Assisted Living, "What we have been facing in the care of pressure ulcers in nursing home is dogma. We desperately need people in nursing homes to do clinical research." The paucity of research in the area of nursing home wound care, has led Skilled Wound Care to conduct rigorous research on their patient population, which exclusively reside in nursing homes. Skilled Wound Care employs physician and physician assistants to see patients at the bedside in the nursing facility. Their practitioners perform extensive evaluations and bedside procedures such as debridement to enable healing. Skilled Wound Care's proprietary Treasure Electronic Medical Record captures key data such as wound sizes for research purposes. In a statement from Dr. Anvar he expressed, "Skilled Wound Care is focused on improving outcomes for its patients. Yet it is imperative for nursing facilities to work with Skilled Wound Care to avoid costly misdiagnoses and resultant avoidable survey deficiencies. In addition nursing home operators, directors, and staff can face costly law suits if it is found that these wounds were improperly diagnosed and care for in a malpractice law suit. Nursing home staff are well comforted when Skilled Wound Care physicians are there rounding in the nursing facility."
To inquire more about Skilled Wound Care services for a nursing home or a patient, or if you are a physician and would like to work with Skilled Wound Care please call (310) 445-5999. To register for our next wound care certification course please call (310) 445-5999 or visit http://www.collegeltc.com.