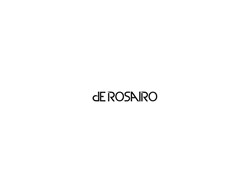 NEW YORK, NY (PRWEB) January 14, 2014
de Rosairo's attention to luxury and edge has made the brand a perfect fit for the glamor of the 71st annual Golden Globe Awards. 55 'A-list' celebrities and presenters alike received an exclusive charcoal Italian cashmere scarf enveloped in an industrial red stitch. Celebrities and presenters who received this exclusive gift include: Cate Blanchett, Sandra Bullock, Kate Winslet, Amy Adams, Julia Louis-Dreyfus, Jennifer Lawrence, Kerry Washington, Sofia Vergara, Meryl Streep, Kevin Spacey, James Spader, Jason Bateman, Don Cheadle, Tom Hanks, Matt Damon, Matthew McConaughey, and Rob Lowe, to name a few.
Fast-rising women's contemporary clothing brand de Rosairo brand is about transcending the boundaries of womenswear, culture and design. Made in the USA and inspired by the idea of a better everyday alternative, the brand offers modern, wearable separates known for their innate versatility, artistic sensibility and luxurious fabrics.
The de Rosairo brand will be debuting in specialty boutiques this fall.
For more information on de Rosairo, visit http://www.deRosairo.com and for inquiries contact Tamara York, email: tamara(at)tamarayorkpr(dot)com.