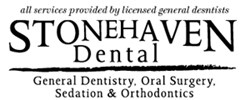 Salt Lake City, UT (PRWEB) January 14, 2014
Often times, the most effective way to express significant positive change it to do so through pictures. In addition, many are visual learners or simply benefit more from seeing rather than simply reading about or hearing about positive testimonials. These reasons are why Stonehaven Dental offices in Utah have elected to curate a before and after gallery so that their patients may literally see how effective and influential their work can be. Wouldn't it make more sense to visually see the kinds of cosmetic dentistry, rather than merely hearing about it or reading about it?
Since teeth are one of the foremost features of the face, it's especially essential to have them looking as beautiful as possible. Clients may choose from a wide plethora of cosmetic or other dental procedures, but now may consult a before and after gallery to either positively modify their choice or confirm its applicability to their particular needs and wants. There are so many benefits to having a gallery such as this, and it has proven to be enormously helpful for patients from every walk of life. It doesn't even have to just apply to cosmetic dentistry. Now, parents of children seeking root canals , cavity fillings, or other routine procedures may actually see the pristine work that Stonehaven dentists in Salt Lake City are achieving. This will inspire and promote the confidence and trust of uneasy or anxious patients.
There is no better testimonial than one that is actually visible. It just makes more sense to have a picture of such as visible case rather than reading or hearing about it. From cosmetic procedures to more need-based ones such as cavity fillings and oral surgery, the Stonehaven offices have embraced the chance to truly express their mastery in the art of dental care through this before and after gallery. These professionally trained dentists are immensely skilled in their field, which the before and after gallery will prove and confirm. There is no need for anxiety or concern about any of the dental procedures that the Stonehaven dental offices in Utah offer, especially now with a visual reinforcement! For more information, visit their website at http://stonehavendental.com/.