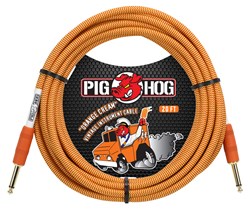 Petaluma, CA (PRWEB) January 15, 2014
PigHog continues fattening up their product offering with three new additions to the Vintage Series woven instrument cable line. Following the release of the Orange Cream 20-foot instrument cable, the series now includes the vintage-inspired Tartan Plaid, Rasta Stripes, and Seafoam Green cables. Beyond rounding out the series, these cables deliver an energetic feast of color and bold daredevil looks that are sure to turn heads while hamming it up on stage or in the studio.
PigHog cables are strategically overbuilt to withstand even the harshest conditions and are known for their tour-grade durability. PigHog Vintage Series cables feature a 7mm-thick woven jacket for exceptional durability, proprietary 20AWG OFC conductor technology, and robust spiral shielding with 90% coverage for noise-free operation. And like all PigHog cables, the Vintage Series includes a "no questions asked" lifetime warranty, so you can be sure your PigHog cables are in integral part of your rig for years to come.
Learn more at http://www.pighogcables.com.
PigHog Cables are manufactured by Strukture Music Accessories, an Ace Products Group brand. Available in a variety of industrial-strength options for instrument, microphone and speaker, all PigHog cables are designed to provide ultimate durability in the most grueling conditions. Whether on tour or in the studio, PigHog cables deliver the performance and reliable sound musicians demand.