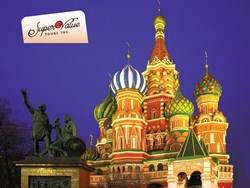 If you want a first class introduction to Russia, this tour is for you.
South El Monte, CA (PRWEB) January 15, 2014
Super Value Tours, a leading tour operator in North America announced their new Russia and Tibet tours. The 11 Day Enchanting Russia tour is the company's first European tour. As the company has only operated in Asia until now, some consider Russia to be a unique choice to begin European operations, given the difficulty of creating luxury tours. CEO April Tsao, welcomes the challenge, "Not many tour operators offer tours to Russia because it's traditionally proven very challenging to offer high quality travel experiences. We're different since we are not afraid to put in the extra effort to create a fantastic experience for our guests. When you look at the itinerary, you'll be impressed." The itinerary boasts many unique and extravagant experiences including accommodations in a former palace, balcony seats at the world renowned Mariinsky Theatre, and VIP arrangements to iconic Russian attractions. "If you want a first class introduction to Russia, this tour is for you," continued Tsao.
In conjunction with the release of the ornamental Russia tour is the company's 12 Day Tibet & Mt. Everest Tour. Known as a cultural epicenter for Buddhism and spirituality, Tibet offers vast natural scenery at the highest altitudes in the world. "The area is home to Mt. Everest and known as the 'Roof of the World.' Tibet has a unique spiritual presence unmatched by anywhere else in the world. We wanted to create a tour that allowed access to these special places," explained Tsao. The Tibet tour offers: first class tickets on the world's highest railway, special arrangements at Potala Palace and a visit to Mt. Everest's base camp. For departure dates and further information on the tours, visit http://www.SuperValueTours.com.
About Super Value Tours
Super Value Tours is a luxury tour operator providing high quality, English speaking group tours to Japan, China, Tibet, Taiwan, Vietnam, Cambodia, and Russia. Luxurious and atmospheric hotel accommodations, exclusive services, expert guides, rare culinary experiences and complimentary travel insurance are included on all packages. Super Value Tours has also been named the #1 Tour Operator by volume to Japan and Taiwan. Discover the Super Value Difference at http://www.SuperValueTours.com or call 877-388-1777 and find us on facebook.com/supervaluetours.