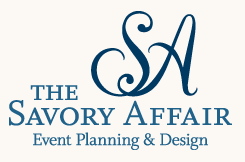 "As brides-to-be begin the planning process, there are many considerations for staying within a budget," stated Jessica Granatiero, owner of The Savory Affair.
East Greenwich, RI (PRWEB) January 15, 2014
With many couples celebrating their recent engagements over the holidays, The Savory Affair, Rhode Island's premier event planning and design company, today warned the newly betrothed on the costs that can cripple a wedding budget.
"The holidays are a particularly popular time to pop the question," stated Jessica Granatiero, owner of The Savory Affair. "As brides-to-be begin the planning process, there are many considerations for staying within a budget."
According to Granatiero, the hidden costs that can break the bank include:

Over-ordering invites and postage: Invitations can be expensive, especially if they contain custom shapes or multiple elements (reply cards & envelopes, maps, etc). Couples should assess the guest list thoroughly to determine how they can send out the right amount of invitations. Postage can also be expensive depending on the shape, size and weight of your invitations. Heavy, large or unusually shaped invitations often require additional postage, so brides should keep this in mind during the design stage.
Dress alterations: When brides determine a budget for their wedding gown, the costs of alterations can often be overlooked. While the $1,000 dress a bride selected may be within her $1,200 budget, she must also consider the costs of the alterations.
Hair/Makeup: If brides have interest in a "practice run" for the style of her hair and makeup for the big day, she must be aware that those trials usually cost just as much as the hair and makeup for the actual wedding day.
Requesting out of season flowers: Although brides may have a vision of beautiful floral centerpieces and accents in their mind, consider the season and whether the desired flowers are in-season at that time.
Venue/Building Fees: There can be a number of additional costs associated with certain aspects of renting a venue. Many venues charge separate fees for trash removal, security, freight elevator use for vendors, fire permits, cake cutting or corking. Couples should be sure to inquire about any fees that may be applied to the bill in addition to the rental fee.
Gratuities: The costs of wedding vendors can be expensive, but no matter what – couples need to make sure to add the cost of gratuities to the final contract pricing when appropriate. Depending on the vendor, tips can either be optional or expected, but it's always nice to show your appreciation for the individuals who assisted in making your special day run smoothly and hopefully without any problems.
The Savory Affair also reminded brides that hiring an event planner can be a cost-saver in the end because they are often able to make couples aware of and able to avoid these "hidden costs" from the beginning of the planning process. In order to help couples stay within their budgets, The Savory Affair is also offering a 15 percent off Full Planning or Day-Of Coordination services booked before January 31, 2014.
# # # #
About The Savory Affair
Bred from passion and expertise in events, food and wine, The Savory Affair is an event planning & design company. The staff is dedicated to creating incredibly memorable and poignant experiences. From location procurement, full catering services, floral design and venue décor to guest list management, invitations, music, party favors, photography and onsite event management, The Savory Affair will provide you with a custom package that captures your vision and budget, whether small or large. Follow us on Facebook.