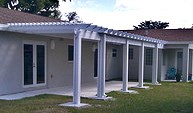 A roof goes up quickly and shelters its users from two basic elements – rain and the sun's heat.
MIAMI, FL (PRWEB) January 14, 2014
A roof overhead is the most basic shelter requirement, says Chris Noe, president of Venetian Builders, Inc., Miami, which installs quality patio covers, sunrooms and screen pool enclosures in South Florida.
"It helps explain why insulated patio roofs generated more business for us among homeowners in Hollywood, Fla., in 2013 than did any other home expansion option," Noe said.
A roof goes up quickly and shelters its users from two basic elements – rain and the sun's heat, Noe said. "Just those two capabilities expand the functionality of a patio or deck. The shade will keep sunlight off the side of a house, reducing heat buildup and cooling bills. It will increase outdoor relaxation, including at dinner time, when outdoor dining and cooking are no longer slaves to heat or rain.
"And the shelter from rain can extend the time outdoors that children – and their parents – can enjoy, especially during the season of frequent afternoon showers."
Insulated aluminum roof panels can carry electricity for ceiling fans, Noe noted. "That means the roof goes beyond passive temperature reduction by creating a breeze artificially when nature doesn't provide one, and at a lower cost than air conditioning for an enclosed room," he said. "Cables are inside the panels, invisible to people enjoying the outdoor space."
Patio roofs lend themselves to conversion, Noe added. "Most screen patio covers have an insulated roof, which means part of the job is already done if a homeowner decides later to enclose the patio with screen to keep out bugs, birds and other pests, or with windows to create a sunroom," Noe said. "We custom design every structure we build, and we can plan and engineer for these eventualities."
Patio roofs are usable virtually year-round in the South Florida climate, Noe said.
Venetian installs Florida rooms, screen patio covers, patio roofs and screen pool domes in all South Florida communities, including not just Hollywood, but also West Palm Beach, Fort Lauderdale, Boca Raton, Deerfield Beach, Davie, Weston, Homestead, the Keys, and the Biscayne Boulevard corridor and Coconut Grove in Miami.
Detailed, written estimates are free. No-cost at-home consultations include curbside access to the Venetian mobile showroom.
For more information, call 866-596-2427.