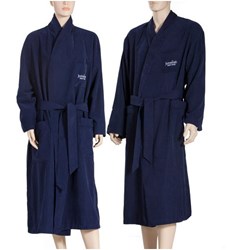 Evansville, Indiana (PRWEB) January 16, 2014
Luxury and comfort just got easier for those who travel frequently as ExceptionalSheets.com now offers the same robes as customers enjoy at the famous Jumeirah 5 Star Hotels and Resorts around the world. Discerning travelers can now experience this level of comfort without leaving their homes or paying for the cost of international travel.
"We are very excited at ExceptionalSheets.com to be offering robes at this level of luxury and comfort from one of the most famous hotels and spas in the world," said Kyle Schmidt, Business Development Associate for ExceptionalSheets.com. "These robes are the very definition of luxury, and we are very pleased to be able to bring these to our customers."
The ultra soft and luxurious robes are the exact same robes used in the Jumeirah 5-Star Hotels and all over the world. They are designed for both men and women and feature two front pockets and a long belt. The one size-fits-all dimensions also has two variations for length. They currently come in the color blue.
The robes are perfect for those people who appreciate the amenities and luxuries of resort living and traveling, yet prefer to experience it in their own home, and on a more frequent basis. No need to travel or incur extraordinary expenses when the robes can be delivered to a customers' door step with the click of a button through the online site at ExceptionalSheets.com.
Exceptional Sheets is among the nation's leading online retailers for luxury Egyptian cotton linens and bedding. Their product line includes 100% Egyptian cotton bed sheet sets, mattress pads, duvet covers, bath linens and pillow cases. Their luxury linen's are made from the cotton grown and harvested in the Egyptian Nile Delta where it is considered among the worlds' finest for comfort and luxury.
Exceptional Sheets is an American owned company out of Evansville, lndiana and features Egyptian cotton sheet sets, duvet covers, and pillow cases. Daily deals are featured each day of the week for those customers interested in the lowest possible prices. To take advantage of daily offers, prospective customers should visit the website or call the toll free customer support line at 1-800-977-7433.