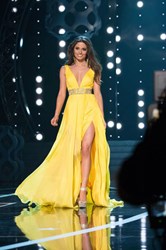 Spentit allows you to share your brand new purchases with friends and family all over the world.
(PRWEB) January 14, 2014
Kristin Smith, most known for her title as Miss Ohio USA 2013, recently tweeted about her Spentit post and encouraged users to check out the new purchase sharing app. Smith, who can be followed on Twitter @ImKristinSmith, posted a picture of a chic new Louis Vuitton clutch.
Smith has shown her stylish fashion sense through Spentit with posts of custom high heels, designer jewelry, and much more. This former pageant queen is now making a splash as a high-end model and can be followed on Spentit @K_Smith.
Spentit (http://www.spentit.com/) is an app available for free on the Apple App Store. It allows users, like Miss Ohio USA, to share recent purchases with the shopping crowd who might be looking for the latest products, cheapest price, venue of sale, and more. In addition, users can clue in their friends, family, and social media followers about product specifics; such as a new shoe line launch.
"The first thing people do after purchasing something is show it off to their friends," Spentit co-founder Ryan Napier said. "Spentit takes this everyday action into the social media world, instantly allowing you to share your brand new purchase with friends and family all over the world."
To use the app, users simply set up a profile, then connect with Facebook friends who are already on the app. For those who don't have Spentit yet, you can scroll through your contacts and send a quick text message with the link to download it on The App Store.
In addition to sharing purchases, Spentit allows users to browse items in different categories, such as Apparel, Hair & Beauty, Fashion, Pets, Food & Drink, etc. Spentit also allows individuals to create a wishlist, so eager shoppers can always keep a running tab on what they want. Best of all, they are able to view other people's wishlists to make shopping for gifts a breeze.
To keep up with trendsetters, like Miss Ohio USA, and for more information about the app, download it now on The App Store or visit http://www.spentit.com/.
About Spentit:
Beta launched in November 2012 and officially launched in August 2013, Spentit is a unique purchase-sharing social media platform for use on mobile applications. It was created by R&N Technologies, LLC co-founders Nino Natale, Ryan Napier, Andrew VanderLind and Aziz Ahmed. Spentit helps users connect based on common purchasing behavior and interests. Users can instantly share purchases with followers. Spentit is a fun and easy way to share interesting purchases and to get ideas of new things to purchase.