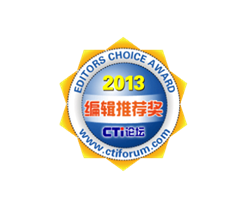 Parsippany, N.J. (PRWEB) January 14, 2014
Dialogic Inc., the Network Fuel® company, today announced that it received two 2013 Editor's Choice Awards from China's CTI Forum for the third consecutive year. Dialogic was recognized in the Value Added Business Solutions category jointly for its WebRTC-ready PowerMedia™ XMS Media Server Software and its BorderNet™ 2020 product with integrated media gateway and SBC functionality. And in the Product Innovation category, Dialogic won for its BorderNet™ Virtualized Session Border Controller, the industry's first carrier class, virtualized SBC with native software transcoding.
PowerMedia XMS is a cloud-ready software media server that excels in rich media mixing and virtualization to transform smartphones and tablets into audio and video endpoints for calling and conferencing applications, with a unique benefit of being able to simultaneously stream video content into a multi-party conference. PowerMedia XMS elevates what developers can design for their customers, in virtually any development environment, connecting to virtually any type of communications endpoint.
Continuing to build on its global recognition, PowerMedia XMS was awarded the American Technology Award in 2013 for telecommunications and also earned two significant awards at the recent WebRTC Conference & Expo in Santa Clara, Calif. A panel of industry experts evaluated more than a dozen WebRTC products and solutions and selected Dialogic for the Ready Now award. In addition, attendees of the show also awarded Dialogic the Wednesday Audience Choice award. As the only company to win two awards at this WebRTC event, Dialogic's recognitions highlight the opportunity its PowerMedia XMS offers to developers and service providers as they create compelling new applications and deploy media rich services using WebRTC.
"We are honored that for the third consecutive year CTI Forum's editors have chosen to recognize Dialogic products," said Eamonn Kearns, vice president of sales, Asia Pacific at Dialogic. "As voice and video markets become increasingly sophisticated, solution and service providers can look to Dialogic's multimedia processing and deployment options to provide efficiency and innovation."
About Dialogic
Dialogic, the Network Fuel® company, inspires the world's leading service providers and application developers to elevate the performance of media-rich communications across advanced networks. Our Intelligent Call Control solutions energize switching, signaling and bandwidth optimization for true any-to-any network connectivity. Our Rich Media Processing solutions supercharge the impact of WebRTC and Unified Communications for the most demanding applications. Forty-eight of the world's top 50 mobile operators and nearly 3,000 developers rely on Dialogic to redefine the possible and exceed customer expectations.
For more information on Dialogic, visit http://www.dialogic.com and http://www.dialogic.com/showcase. Follow us on Twitter @Dialogic.
Dialogic, Network Fuel, BorderNet, and PowerMedia are either registered trademarks or trademarks of Dialogic Inc. or a subsidiary thereof ("Dialogic"). Other trademarks mentioned and/or marked herein belong to their respective owners. Dialogic and its subsidiaries encourage all users of their products to procure all necessary intellectual property licenses required to implement their concepts or applications, which licenses may vary from country to country.
About CTI Forum
CTI Forum is China's leading online media and information services portal, with a focus on call center solutions, corporate communications and mobile value-added services. This is the second year that CTI Forum is recognizing outstanding companies with Editor's Choice Awards. Award-winning companies are given a CTI Forum medal of distinction and are featured on the CTI Forum website.