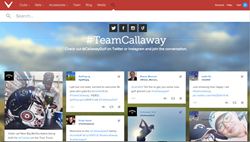 By integrating this content directly into CallawayGolf.com, Callaway is helping consumers make informed buying decisions without having to leave their site.
San Francisco, CA (PRWEB) January 14, 2014
Livefyre, provider of the leading real-time conversation and social curation platform, today announced that Callaway Golf is using its StreamHub platform to increase consumer engagement with their brand and products. This partnership is part of the leading sports brand's relaunched digital platform in an effort to integrate social into the purchasing process.
Using Livefyre's technology, Callaway will be integrating real-time posts of what people are saying on Twitter and Instagram about the company and their products into CallawayGolf.com. Golf fans will be able to visit the site to see what other golf enthusiasts are saying about Callaway products, in addition to photos, tweets and tips that can help improve their game. The relaunch coincides with the introduction of the company's much anticipated driver for 2014, Big Bertha.
"People are having conversations every day about our products on Facebook, Twitter and Instagram," said Randy Varela, Director, Digital Marketing at Callaway Golf. "We wanted to capture that earned media and integrate it into our site as meaningful, authentic content in order to build a deeper connection with golfers. Livefyre was the best platform that enables us to do this in addition to encouraging on-site user generated content."
In addition to reading curated content from social networks, Callaway customers will be able to discuss their favorite products from the trusted golf brand in real-time using Livefyre's LiveComment application. Golf fans can also bring others into the conversation by tagging friends on social networks like Twitter and Facebook to notify them that they've been mentioned in a comment. Every post can be easily shared on social networks for additional viral impact.
"84% of Millennials and 70% of boomers read user generated content before making a purchasing decision," said Jordan Kretchmer, founder and CEO of Livefyre. "By integrating this content directly into CallawayGolf.com, Callaway is helping consumers make informed buying decisions without having to leave their site. Feedback from consumers has been extremely positive so far about this new communications approach. Not only do they find value in what other people are saying about the products, but they feel included, as if they are a part of the Callaway brand."
About Callaway Golf
Through an unwavering commitment to innovation, Callaway Golf Company creates products designed to make every golfer a better golfer. Callaway Golf Company manufactures and sells golf clubs and golf balls, and sells golf accessories under the Callaway Golf® and Odyssey® brands worldwide. For more information please visit http://www.callawaygolf.com.
About Livefyre
Livefyre helps companies engage consumers through a combination of real-time conversation, social curation and social advertising. With Livefyre's social CMS, brands can integrate real-time social content into their websites, mobile apps, advertisements and television broadcasts to increase viewer engagement, boost website traffic and drive revenue. As the fourth largest network online, Livefyre is powering real-time social experiences for over 550 leading brands including American Idol, AOL, Bravo, CBS, Conde Nast, Cox Media Group, Dow Jones/WSJ, FOX Sports, Mashable, NASCAR, Showtime, Sony Playstation, Sports Illustrated, The New York Times, Unilever and Universal Music Group. Livefyre also acquired social storytelling platform Storify in September 2013 and Social Application Provider Realtidbits in November 2013.
Founded in 2009 with offices in San Francisco, New York, London and Sydney, Livefyre was named one of the best places to work in the Bay Area by the San Francisco Business Times and 2013 Corporate IT Software Company of the year by the World Technology Network. For more information, visit http://www.livefyre.com or follow us Twitter and Instagram at @livefyre or @storify.