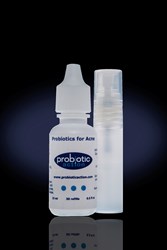 We at Probiotic Action think of probiotics in terms of skin care and as a natural acne treatment.
Miami, FL (PRWEB) January 15, 2014
Probiotic Action issued a statement regarding new probiotic enriched milk Dairy Balance produced by Foster Farms Dairy, which is currently only available in northern California.
As reported on DairyHerd.com, the new milk, called Dairy Balance, "is one of the first milk brands to be fortified with the patented probiotic, GanedenBC30, and one of only a handful of probiotic-enhanced milks currently available to consumers." In order to survive milk's manufacturing processes, Foster Farms Dairy used a patented probiotic developed by Ganeden Biotech described as "unique" in order to retain its healthful qualities. This "durability also withstands harsh stomach acids, allowing the delivery of more beneficial cultures."
Probiotic Action spokesperson Fernando Perez thinks that products enriched with probiotics are going to be the wave of the future. He says, "We've already got yogurt that's enriched with probiotics and now we have milk that is going to be enriched the same way. There are even probiotic enriched mints in development. The more foods that can be enriched with probiotics, the better, we say. This company that produced a fortified probiotic solved a major problem when it comes to dairy products. Now, this needs to spread to other foods."
Continuing, Perez says, "At Probiotic Action, we use probiotics for natural skin care. When it comes down to it, we can probably use probiotics to help just about every human condition. Probiotics can help in so many other ways that scientists are just beginning to unlock. There doesn't appear to be a limit to their usefulness. So it's critical that people ingest probiotics on a regular basis in order to maintain a healthy internal balance. This milk is a step in the right direction."
Probiotic Action, a pioneer in natural acne remedies, follows all probiotic-associated products to collect information in order to help educate the public on the power of probiotics for skin care and overall health. For more information, please visit ProbioticAction.com.