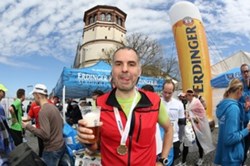 It may well be the largest beer garden in the world without alcohol.
Düsseldorf, Germany (PRWEB) January 14, 2014
Athletes running a marathon and visiting a beer garden on the same day is an unexpected combination of activities, but that's exactly what happens at Düsseldorf's METRO GROUP Marathon (2014 date: April 27, 2014). A space set up for 4,000 athletes to enjoy a beer will create the biggest beer garden for a day in Düsseldorf, a city already famous for having the longest bar in the world (260 bars and pubs in under a square mile in the city's historic Old Town). But outrage at thousands of athletes drinking alcohol will not be on the program, because they will drink non-alcoholic beer, known for its isotonic thirst-quenching properties. It may well be the largest beer garden in the world without alcohol.
A healthy drink at the end of the race is not the only major appeal for athletes from all over the world. Great views on a route through the city's best and diverse attractions are another unique feature, which explains why this city marathon keeps attracting wider international participation each year and an expected 15,000 athletes this year – yet another record. More and more participants catch on that the 42 km route is one of the most fascinating and diverse backdrops of any city marathon, as it includes the city's biggest attractions, such as the historic Old town, ultra-modern Media Harbour and its stunning super-star architecture, and shopping boulevard Königsallee.
"Already, 20% more participants from abroad have registered than in 2013," says Jan Henning Winschermann, the event's director. The entrants come from 73 countries worldwide, including India, Japan, Venezuela, Brazil, Chile, Mexico, Columbia, Ecuador, and the US. The number of female runners is growing, as well, with 23% of total registrations -- already higher than in 2013 (20%).
With an expected 15,000 participants, the coming METRO GROUP Marathon will be the biggest ever since the event's inception in 2003. Registration is now open, and potential runners are encouraged to apply as soon as possible.
Düsseldorf's tourism office is offering hotel and city specials for marathon participants and visitors. The "METRO GROUP Marathon Düsseldorf" packages can be booked online at http://www.duesseldorf-tourismus.de/en/hotel-packages/marathon. Prices start at €48 per night per person based on double-occupancy for a 2-3 star hotel in the city center and at €74 per person for a 4-5 star hotel. All packages include breakfast, a Düsseldorf Welcome Card (free public transportation within city limits plus 30 free or reduced admissions to city attractions), 10% off the marathon registration fee, and a city information package.
For more information about METRO GROUP Marathon Düsseldorf, please visit http://metrogroup-marathon.de.
For more information about the destination Düsseldorf, please visit: http://www.visitduesseldorf.de.
###
Düsseldorf Marketing & Tourism GmbH is the visitors and convention bureau of the city of Düsseldorf. Its responsibilities include tourism and city marketing, as well as conference and meeting marketing, hotel reservation services, fairs and convention services, city event ticket sales and advance ticket reservations. For more information, visit http://www.visitduesseldorf.de.
Düsseldorf Airport, Germany's Next Generation HubTM, offers several non-stop flights from US & Canadian cities (Atlanta, Chicago, Ft. Myers, Los Angeles, Miami, New York, Newark, Toronto), as well as convenient connections to many European cities. For more information about the airport, visit http://www.fly2dus.com.