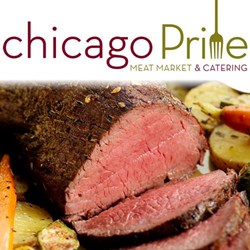 The finest ingredients you can find, skillfully prepared and served fresh. Food with passion you can taste. That is Chicago Prime Meats' mission.
Glen Ellyn, Il (PRWEB) January 15, 2014
The Chicagoland area's premier high-end butcher shop, catering service, and deli. Currently located in a new facility located on 682 Roosevelt Road in Glen Ellyn.
Chicago Prime Meats began just over seven years ago, and has made huge strides in that time. It began as a small meat shop specializing in USDA Prime beef, the finest grade of beef available. Everyone should be able to enjoy the highest quality of beef at an affordable price. CPM didn't want to source the same beef for sale at any supermarket. The goal was to stock the cuts and quality only found in the finest steakhouses.
Chicago Prime Meats carries only high-end meats which are fresh and never frozen. At the time, no one could have guessed how immediate and positive the response would be, and how much demand the Chicagoland area would have for these products.
Chicago Prime Meats began cooking meats by special request from loyal customers. It began with an order for a dozen bleu-cheese stuffed burgers, then another customer asked for bbq pork ribs and potato salad. From there the menu grew to several restaurant's worth of expertly prepared food.
Before long, demand for cooked products easily outpaced the small kitchen in Chicago Prime Meat's original storefront. Food this delicious can't be kept a secret for very long! Soon it was decided to expand not just the size of the shop, but also to add catering and delivery services to the menu. The goal was for every family to be able to enjoy these products of peerless quality in whatever way fit their needs best.
An executive chef was brought in to create vibrant takes on timeless recipes. The menu explores so many of the world's most beloved cuisines. Pastas with sauces made fresh, in-house. Burgundy marinated Tenders Steak Sandwiches and Wraps with caramelized onions and bleu-cheese sauce. Moist and succulent Chicken Macadamia.
Butchers hand-carve and trim all of the meats and seafood. The time is always taken to ensure the food is sourced, prepared, and presented at the highest level of quality.
Boar's head stocks all of Chicago Prime Meat's deli selections. Boar's Head is a company so committed to the quality of their products, it seemed a natural partnership. Their products do not sit in saline baths and have the slimy texture and mouth-feel associated with store-bought deli meats. These deli products taste like freshly cooked and expertly prepared roasts of beef and turkey, because that's what they are.
It is vital that every ingredient used was at the peak of freshness and flavor. Salads taste like a summer's day even in middle of winter. The tomatoes and strawberries served never taste mealy or bitter. Perfectly ripe fruits and vegetables are hand-selected and used only at the peak of ripeness.
High-end catering means cutting no corners: stocks made from fresh bones roasted in-house, extracting every bit of flavor over hours of simmering and reducing. Sauces which are made with bright San Marzano tomatoes, the finest tomatoes available. Passion for great food comes through in every bite.
Chicago Prime Meats believes food is an art form that is meant to be savored and experienced with all five senses. Everything on offer is crafted to the same top-quality standards. Side dishes are prepared with the same care as main courses. Nothing on the menu is an afterthought. Serving only the best possible products prepared at the highest levels is what makes Chicago Prime Meats different from other butcher shops and catering companies.
The CPM product line now includes a full assortment of USDA Prime and Choice beef, pork, veal, and lamb, as well as deli products and seafood. Whether it be a family gathering, corporate lunches, or even weddings, catering is available every occasion big and small. Nothing we do at Chicago Prime Meats is done the easy way, it's done the right way.
Many things have changed since Chicago Prime Meats began 7 years ago, but the commitment to quality and passion for the finest food remains the same. The goal is to constantly innovate existing recipes while introducing new ones. There is always something new and delicious to try!