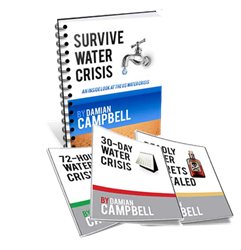 "Survive Water Crisis eBook can help users have clean drinking water during a water crisis. Is it possible?"
(PRWEB) January 23, 2014
Survive Water Crisis Guide is a new book written by Damian Campbell, who is the author of "Survive Anything" and "The 37 Critical Food Items Sold Out After Crisis". By providing useful techniques and methods, this new book teaches users how to cope with a water crisis and have clean drinking water. As a result, users will not have to worry about the quality and quantity of their water in any water crisis.
Survive Water Crisis teaches users how to turn polluted water into pure water. Users can learn how to purify water at home and they will not have to drink dirty water during a water crisis. Hence, users will know what to do to enjoy clean drinking water and take full control of their water supply. Thanks to this book, users and their families will not be thirsty during any water crisis. Besides, users will discover how to remain calm and confident enough to handle water crises. Whenever a water crisis arises, users will unnecessarily dread dehydration. Last but not least, this book introduces common water disasters and a report on water supply.
Survive Water Crisis Guide carries a 60-day money back guarantee, which means any dissatisfied customer can claim a full refund. Besides, Campbell is glad to offer users valuable bonuses. Bonus #1, How Water Crisis Survival Blueprint, teaches users to adapt quickly to a temporarily water-deficient state. Bonus #2, 30 Day+ Water Survival Guide, tells users how to make water in their house potable and purify their water with black mica extract. Bonus #3 reveals deadly water secrets.
Please read a full review of Survive Water Crisis on the website abb2u.com.
In order to obtain full information on Survive Water Crisis, please visit the official website.
About the website: The site abb2u.com, since 2013, has introduced digital products in entertainment, self-help, health & fitness. Dung Vu, the creator of this website, is willing to reply customers' feedback on digital products via email.