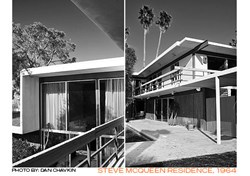 Palm Springs, CA (PRWEB) January 15, 2014
PSModCom's annual display installation will be a retrospective of prolific Palm Springs architect, Hugh M. Kaptur, AIA and include a free public lecture on Saturday, February 22, 2014. It is a component of the PSModCom Education Committee which provides outreach and information regarding the mid-Twentieth Century designs and buildings for which the desert region is internationally acclaimed.
The annual exhibit is free of charge and open to the public during library hours. As part of a broader curriculum of PSModCom's education committee, this yearly library exhibit has been an integral component of the organization's community outreach for nearly a decade. PSModCom board member, Palm Springs Life Magazine's Julie Rogers, says, "It's so rewarding to see people of all ages studying the exhibit images and materials, reading the historic information, learning about buildings and people in their own city," adding, "we typically hear that the annual PSModCom show is the library's most well attended and discussed by visitors from near and far. The 1975 library is a significant site itself, designed in by desert modern architect William F. Cody."
In an area internationally noted for significant architecture, Hugh Kaptur's contributions to the built environment are enormous, scattered throughout the everyday streets of the cities that line the Coachella Valley. His work will be displayed in vintage and contemporary photography and ranges from custom homes and innovative tract houses; celebrity homes (actors Steve McQueen and William Holden); medium and large commercial developments; motels; innovative fire stations and more. The exhibit is in conjunction with Palm Springs Modernism Week (http://www.moderismweek.com), and is one of numerous activities and events honoring Kaptur at the annual Modernism ten day conclave.
Student scholarships are the primary activity of the PSModCom educational committee. Each spring, a $1500.00 monetary gift is awarded to four Palm Springs Unified School District (PSUSD) graduating high school seniors who have expressed an interest in architecture, design, or architectural preservation. Fostering awareness and preservation of the Desert Modern designs, the scholarship program is currently donating documentary films, books, maps, and a variety of related materials to each of the four high schools in the PSUSD.
About Palm Springs Modern Committee
The Palm Springs Modern Committee is a non-profit organization dedicated to the appreciation and preservation of Desert Modern architecture and design. We accomplish this through education, advocacy for threatened buildings, promotion of heritage tourism and the celebration of success in preservation and adaptive reuse.
EXHIBIT:
Wednesday, February 12-Wednesday, March 12, 2014
Hugh M. Kaptur, AIA: Gentle Giant of Desert Design
Palm Springs Public Library
300 South Sunrise Way
Pam Springs, 92262
(760) 322-7323
Free event
Open all public library hours
EXHIBIT LECTURE:
Saturday, February 22, 2014; 10:30AM-11:45AM
Matt Burkholz, presenter; Kaptur's commercial and civic design.
Palm Springs Public Library
300 South Sunrise Way
Palm Springs, 92262
Free event