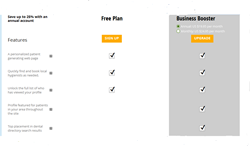 "Each of these tools makes the practice look better to the user. They're going to go with the dentist that's demonstrated expertise and courtesy." - Sam Dyer, Healthy Grid
(PRWEB) January 15, 2014
Healthy Grid now offers a web page to dentists designed to increase their exposure to new patients. This new tool is available without cost to all licensed and practicing dentists.
Healthy Grid is a dental marketing company known mostly for their Dental Optimizer site which has already connected patients with dentists and helped patients gain greater access to dental knowledge. According to Healthy Grid's Sam Dyer, dentists are continually looking to engage with the patients that will be best served by their practice.
"We kept hearing that dentists are tired of just being in directories and we also are continuing to discover that long-term patient-dentist relationships result from better online interactions. This program goes far beyond a directory. We're able to match needs, dental and otherwise, with services offered by each dentist."
This web page offered by Healthy Grid is part of their Best Dentist Finder which matches the needs of the person seeking help with the services listed by each dentist. Each dentist is encouraged to provide as much information as possible about their practice. Elements such as languages spoken by a practice's team members, gender of a practice's team members, and child-friendliness all factor into the decisions of a prospective patient. According to Dyer, practices with more information posted are also more likely to be viewed by people seeking dentists.
Dentists choosing to claim their web pages can benefit by clearly establishing their location. Dyer explains that they can get more views with minor modifications. "Of course their address, phone, and primary website are included on our profile but they've got the option of giving their page a title, kind of like a headline in addition to their practice's name. Dentists who use their city name in their title have the best results in reaching new patients." Dyer elaborates, explaining that a majority of internet searches for dentists include the city name of the residence or work of the user.
These websites also allow each practice to upload photos, link to social media, and post articles and answers to questions about oral health. There's also an optional "widget" called the Patient Generator that offers users access to more dental information and gives the practice more information about their new patients. According to Dyer, the Patient Generator can be attached to almost any piece of a dentist's web presence and it "...gets them another step closer to making an appointment. Each of these tools makes the practice look better to the user. They're going to go with the dentist that's demonstrated expertise and courtesy."
Each member of a practice's staff is able to establish their own profile as well. According to Dyer, each page associated with a practice increases that practice's exposure to people seeking a dentist. Additionally, each page provides an opportunity for each practice to provide the type of information that will help people find them to be the right dentist.
This dental marketing tool is available on two levels. The most basic carries no charge and the Business Booster level's charge is designed to meet the budgetary needs of a growing dental practice. Dentists, hygienists, office managers, and assistants can view more details at http://www.dentaloptimizer.com/dentists/get-more-patients/.