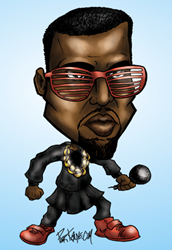 I'm the highly marginalized genius voice of a generation!
San Francisco, CA (PRWEB) January 15, 2014
A new website called PoorKanye.com uses audio clips from various Kanye West interviews and appearances to poke fun at the controversial rapper.
Upon entering the site, the visitor finds a simple page featuring a large caricature of "Poor Kanye", complete with his trademark red sunglasses, leather kilt and Yeezy sneakers. It then plays one of 48 random audio clips called "Kanyeisms", including such classics as "George Bush does not care about black people", as well as newer gems like "this is like being a police officer" and "I am Shakespeare in the flesh!"
Hungry for another Kanyeism? Just hit the "Please Sir, May I Have Another" button and the next random clip plays. So simple, yet so entertaining!
Other features include comment threads and links to view the videos from which the clips were grabbed. A small Settings icon provides the ability to change the order the clips play, with choices like "Latest to System" and "Date Recorded".