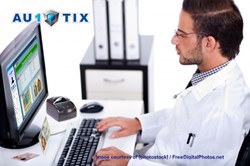 'We are honored to receive this vote of confidence in our technology from a leading player such as TFC,' says Ron Atzmon, Managing Director of AU10TIX. 'FDI has now been proving its worth for (already) three years.'
Nicosia, Cyprus (PRWEB) January 17, 2014
The Funding Corporation Limited (TFC) has been using the AU10TIX FDI front-end ID document authentication and record generation solutions for three years. TFC has expressed great satisfaction with the system which helps detect ID document fraud, and speeds up customer record generation. AU10TIX's FDI has replaced manual document examination and keyboard data entry with a simple scan-and-go, seconds-fast solution. Automotive finance companies such as TFC encounter hundreds of fraud attempts every year, with the potential loss of millions of pounds. By automating the scanning, authentication and conversion of ID documents, at border control level, TFC gain not only better fraud protection and deterrence plus better KYC compliance, but also speedier customer turnaround and superior service experience.
"Our reputation for first-class service in the motor finance sector is underpinned by technology which enhances both efficiency and security," says Richard Cox, Head of Motor Operations at TFC, parent company to ACF Car Finance Limited: "We were among the first in this industry to recognise the value of automating customer screening and onboarding, and have successfully deployed AU10TIX FDI stations across our dealer network for almost three years now. They enable us to protect ourselves better against fraud, and to maximise our operational efficiency. Our dealers have expressed great satisfaction with the FDI system and want to continue benefitting from its capabilities. We also found AU10TIX a great partner to work with, and look forward to sustaining this beneficial relationship."
"We are honored to receive this vote of confidence in our technology from a leading player such as TFC," says Ron Atzmon, Managing Director of AU10TIX: "FDI has now been proving its worth for three years, and winning the appreciation of both management, dealers and clients. All of this has been taking place against a background of increasing fraud and the growing threat it poses to finance-related businesses. We work constantly to ensure that FDI is fully optimized and up-to-date, and to develop the concept of multi-channel ID authentication and processing. We now offer solutions for front-end, online, and mobile channels based on one technology platform. We will continue to lead the market with new standards and superior performance."
About ACF Car Finance Limited and The Funding Corporation
The Funding Corporation (TFC) is a specialist provider of non-prime car finance. TFC's retail company, ACF Car Finance, is a supplier of high-quality used cars to people whose credit status might otherwise prevent them from obtaining car credit (http://www.acfcarfinance.co.uk/car-credit/). ACF Car Finance has earned a strong reputation within the finance and motor industry for its standards of customer care, and the quality of the friendly, professional advice provided by members of its fully-trained team. The company can be followed on Twitter at http://www.Twitter.com/ACFCarFinance.
For more information, visit: http://www.thefundingcorporation.com and http://www.acfcarfinance.co.uk.
About AU10TIX
AU10TIX Limited, a fully owned subsidiary of ICTS International N.V, deals with the authentication and digitization of identifying documents including Passports, identity cards, driving licenses and other complementary identifying documents. The company specializes in implementing hardware and software based applications used for scanning, identifying, content retrieval, authentication and validation of identifying documents. AU10TIX is a pioneer of all-channel (front-end and online) ID authentication and processing solutions. The company's products drastically reduce identifying document-based fraud, reducing the costs associated with client processing and enabling effective regulatory compliance, while making the sales and support operations speedier and considerably more efficient.
For more information, visit http://www.au10tix.com.
About ICTS International N.V.
ICTS specializes in the development and implementation of innovative security concepts and solutions designed to meet the needs of a variety of industries, mainly aviation transportation, border control and sensitive facilities. ICTS International benefits from over two decades of expertise and international operational experience in transportation security, with a particular emphasis on high-risk environments, passenger processing transactions and the integration of security services to provide a comprehensive security solution. It also offers a wide variety of customized training programs, tailored procedures and a wide range of security consulting services. The company has developed and implemented unique technological solutions, based on its comprehensive approach to security, designed to enhance the level of security while accelerating the security check process.
For more information, visit http://www.icts-int.com.
This press release contains "forward-looking statements" within the meaning of the Private Securities Litigation Reform Act of 1995, regarding the Company's business strategy and future plans of operations. Forward-looking statements involve known and unknown risks and uncertainties, both general and specific to the matters discussed in this press release. These and other important factors, including those mentioned in various Securities and Exchange Commission filings made periodically by the Company, may cause the Company's actual results and performance to differ materially from the future results and performance expressed in or implied by such forward-looking statements. The forward-looking statements contained in this press release speak only as of the date hereof and the Company expressly disclaims any obligation to provide public updates, revisions or amendments to any forward-looking statements made herein to reflect changes in the Company's expectations or future events.
Contact:
The Funding Corporation
Aaliyah de Souza, Marketing Executive
Email: aaliyah.desouza(at)thefundingcorporation(dot)com
Tel.: +44-1244-625 683
AU10TIX
Ofer Friedman, Director of Marketing
Email: ofer.friedman(at)au10tix(dot)com
Tel.: +972-50-4 71 71 50
ICTS International NV
Alon Raich
Email: mail(at)ictsinternational(dot)com
Tel.: + 00-972-974-47770