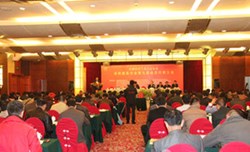 Zhengzhou, China (PRWEB) January 14, 2014
iAbrasive, an international trade platform concentrating on the e-commerce of abrasives, abrasive products and diamond tools, felt honored to announce that it had been invited to attend the ninth general election meeting held by China Coated Abrasives Association.
The meeting successfully took place in Zhengzhou, Henan province, which brought coated abrasives manufacturers from different districts together. According to the introduction, the meeting mainly consisted of two parts. In the first half, the corporate representatives elected the ninth leadership of China Coated Abrasives Association as usual. While, in the second half, some professionals analyzed the development status of China coated abrasives and introduced new manufacturing techniques as well as products to the attendees. The meeting finally concluded with White Dove Abrasives Co., Ltd. being reappointed as the president unit of the association.
About China Coated Abrasives Association
China Coated Abrasives Association is a professional industry portal sponsored by coated abrasives branch of China Machine Tool &Tool Builders' Association. Since the establishment in 2001, it has been committed to promoting the development of Chinese coated abrasives. Similar to iAbrasive.com, the association is the first professional portal website in coated abrasives industry which provides the most authentic and authoritative industry information. It possesses a strong technical force of website backstage and stable customer base.
A Review on iAbrasive
iAbrasive.com was formally founded in the year of 2012, and it appeared with an overwhelming vigor and vitality just like the flowers in the spring. With a view to making itself a most professional business to business trade platform for abrasives, abrasive products, diamond tools and so on, the company sets up the attribution selection system for quick search, as well as some basic knowledge and industrial news for users' reference.
The website had reached a cooperation agreement with China Coated Abrasives Association at the very beginning of 2014, which would have a significant influence on the research and sales of Chinese coated abrasives.
For more news about iAbrasive, link here: http://www.iabrasive.com, or http://www.iabrasive.com/blog/.