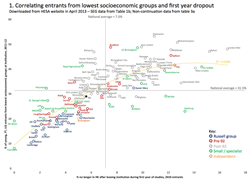 London, UK (PRWEB UK) 16 January 2014
Cuts in government funding sees Universities struggle to cover costs of dropouts. Over 100 UK universities have student populations ranging from 10,000 to 40,000. The current average dropout rate of 7.4% means the average cost of lost tuition fees alone is between £6.7m and £26.6m per university.
York St John University has published research which highlights the connection between excessive dropout rates and universities that take undergraduates from low socio-economic backgrounds.
The report reveals how the widening participation agenda could have a financial cost for institutions; when extra funding for universities who take on students from poor backgrounds is at risk.
Director of the Office for Fair Access, Les Ebdon, said the research "starkly" illustrates the costs of taking on students from a widening participation background because of the "significant loss of money" to an institution when a student drops out.
"If universities were simply businesses they wouldn't do it," he said. Read more here.
HEFCE, (Higher Education Funding Council for England) provide funding under the student opportunity allocation – previously known as the widening participation premium – and this provides additional funding to universities that take disadvantaged students. This vital resource appears to be under threat in the government's austerity drive. This year, £332 million has been allocated, which is a reduction of £34 million from 2012-13, and there are significant fears that it could be cut further as the government looks for more savings over the next two years.
HEFCE distributes nearly £300 per full-time student multiplied by a "risk weighting" based on the average age and qualifications of the institution's student body – thereby coming up with a formula to calculate how likely students are to need extra support.
Professor Ebdon said the fund covered only a "fraction" of the cost to a university of a student dropping out.
When students drop out, universities face the loss of tens of thousands of pounds of tuition fees, teaching grants for higher-cost subjects, and fees for accommodation and other services. This quickly adds up to £millions of pounds lost out of a universities budget.
Over 100 UK universities have student populations ranging from 10,000 to 40,000. The current average dropout rate of 7.4% means the average cost just of lost tuition fees is between £6.7m and £26.6m per university. The other losses are on top of this.
The report highlights the increased financial risk to those institutions with a disproportionate number of students from disadvantaged backgrounds.
The universities on the right of the graph attached are suffering big budget losses.
The research also shows that there is hope for the sector as it shows that the institutions in the top left of the graph are managing to combine low dropout rates with a high percentage of widening participation students.
York St John has managed to cut its dropout rate from more than 10 per cent in 2003 to 5.6 per cent in 2011, although its proportion of widening participation students decreased slightly in that period.
Andrew Fern, strategic analyst at York St John, said the institution had improved student feedback and instituted a survey that looked for early warning signs that students might drop out.
Other institutions are taking a more proactive approach and using technology to flag up early warning signs of disengagement, so that staff can actively intervene early and make a big difference to reducing dropout rates.
A good Student Attendance Management Systems (SAMS) can quickly add value to any institution. Attendance and engagement data is gathered, collated and processed in real time, saving hundreds of hours of staff efforts. Information on unauthorised absences and late attendance (both highly significant indicators of potential dropout candidates) is highlighted to responsible staff, who an then view the context of the student's overall attendance history and then contact them by text message, email, telephone or letter through the SAMS there and then.
Without a good system, the same process takes several weeks, by which time the problem is likely to have become entrenched and therefore insoluble.
Additionally, an effective Student Attendance Management System, which operates in real time, ensures that issues are identified proactively and quickly
An effective Student Attendance Management System can deliver 3 key benefits for educational institutions:

Tier 4 Licence compliance
Lower administrative costs
Increased revenues through improved student retention
Most manual systems involve the taking of registers, transferring data into spreadsheets before collating, further data transfer and then data analysis, before being able to identify potential issues. This all takes up an enormous amount of staff time, in academic and administrative departments, so the operational costs are frightening and present a major opportunity for efficiency improvement.
The time this process takes often means that it is too late to take any meaningful action by the time any issues have been highlighted.
Repeatedly keying in attendance data onto spreadsheets invariably brings in unintentional errors, so as well as being late and costly, the resulting information is often unreliable. This is massively demotivating for the staff involved as they know that the system they are doing their best with is not fit for purpose and costs far too much.
A good Attendance Management Policy supported by a good Student Attendance Management System can deliver the following benefits to Students and their institution:
BQuSAMS (Student Attendance Management System) ensures that users can easily implement their Student Attendance Policy, helping to improve attendance and engagement, improving the student experience and compliance with Tier 4 licence obligations in an efficient and cost effective manner.
A good Student Attendance Management System (SAMS) will produce accurate data to evidence the engagement and progress made by their students and enables cost effective reporting to their stakeholders.
A further benefit is that the systems real time reporting enables staff to easily identify students whose attendance and engagement is below expectation immediately. They can then make effective intervention to work with the student concerned and provide appropriate support and encouragement to get them back on track.
This has a profound positive affect on student retention, which greatly improves revenues with.
It also leads to improvements in the numbers of students completing and attaining their qualification, which enhances the reputation of the university.
Improved Student Attendance and engagement
Improved communications with students and staff
Reductions in operational costs
Improved staff morale
Improved student attainment
Health & Safety, Duty of Care
Improved student retention
Improved revenues
Improved institutional reputation
Increased demand from new students
Tier 4 Compliance
Student review data can be entered in real time via tablets or smartphones, ensuring best use of staff time and efficient record keeping, making any required evidence for third parties easy to find and report.
The SAMS also enables colleges to fulfil their requirements for Tier 4 licence compliance for tracking student's attendance and study engagement and to be able to quickly provide evidence if required. This can be an enormously time consuming, costly and inefficient process, which often fails to deliver the necessary information needed to comply.
BQuSAMS are happy to discuss individual organisational needs and to match a system in both functionality and cost to our customer's needs.
Contact BQuTMS for more information on BQu SAMS, or to request a SAMS demonstration.