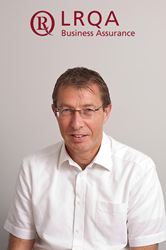 Risk-based thinking can also help to identify opportunities, which should be considered to be the positive side of risk.
(PRWEB UK) 15 January 2014
The ISO Technical Committee ISO/TC 176/SC 2, which is responsible for the revision of the international quality management system standard ISO 9001, has just published a presentation which provides an overview of how the future ISO 9001:2015 standard addresses the topic of risk.
ISO 9001 is the world's most widely-implemented standard, with over one million certificates in issuance. Given that the total number of certificates in circulation for all management system standards totals 1,504,203, ISO 9001's scale and global implementation is clear (i).
"The concept of risk has always been implicit in ISO 9001; this revision makes it more explicit and builds it into the whole management system," said David Lawson, LRQA Technical Director. "Risk is often thought of only in the negative sense. Risk-based thinking can also help to identify opportunities, which should be considered to be the positive side of risk."
The main objective of ISO 9001 is to provide confidence in an organisation's ability to consistently provide customers with conforming goods and services as well as enhancing customer satisfaction. "The publication of this presentation to the wider external global community demonstrates ISO's commitment to a more open and transparent revision process," said Lawson.
In addition LRQA's Managing Director & Chair of the IIOC - Mike James has given a clear indication to the market that the revision of ISO 9001 will deliver "increased user confidence through greater senior management 'quality leadership' responsibility tied to closer links between the management system and product/service quality, all raising the responsibility of certification and accreditation bodies."
The timeline for the revision of ISO 9001 remains on track with the forecast publication of the revised standard being September 2015. To achieve this, most of the work over the next few months will be within the committee structure which means progress is being made towards the publication of the Draft International Standard (DIS) around the end of Q1 2014.
LRQA provides industry representation on all of the major ISO standard technical committees including ISO 9001, ISO 14001 (environmental) and ISO 45001 (Occupational Health & Safety).
Further information about the ISO Standard Revisions - to include blogs and round table discussions - will appear on http://www.lrqa.com/isostandardsupdate. Alternatively, please email enquiries(at)lrqa(dot)com.
(i) http://www.iso.org/iso/iso_survey_executive-summary.pdf.