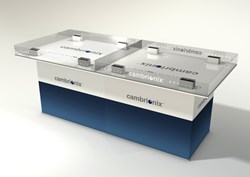 (PRWEB UK) 16 January 2014
The free charging areas in the bar (between the Microsoft and Google stands), as well as the speakers lounge and press office are using the new Series8 universal charging hubs designed by Cambrionix.
Cambrionix supplies world-leading USB charging and connectivity technology to the largest providers of tablet charging carts and products. With Cambrionix inside you can be sure that your devices are optimally charged, fully sync'ed and ready.
Steve Tyson, Director, said, "As a company, we are delighted to support our partners at the BETT show and highlight the engineering expertise of our products and the universality they can provide. As world leaders in mobile technology charging and connectivity, we recognise the importance of ensuring your phones and tablets are always fully updated and charged so you can start your working or school day with enough charge to get involved. 'Powered by Cambrionix' means that your phones and tablets are charged at their proper rate. Also, with our new app. they can be charged at a high rate during sync."
Please vists our website at http://www.cambrionix.com to see the full range of charging and data synchronisation solutions available.
Take a break and recharge yourself and your phone courtesy of Cambrionix.
About Cambrionix
Cambrionix supplies finished products and electronic components for use in hospitals, schools, homes and businesses that need to manage and control updates, synchronise data and charge USB-connected devices reliably and quickly. Cambrionix technology is incorporated by system integrators into a variety of form factors including carts and charging pods which are sold around the world. Cambrionix was established in June 2007 and is based in Cambridge, UK.