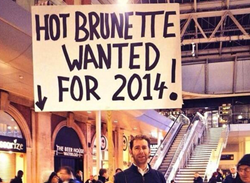 "So much better than traditional internet dating which gets stale." Waterloo Romeo, Gerald Abrahams
London (PRWEB UK) 14 January 2014
When landscape gardener, Gerald Abrahams (better known as the Waterloo Romeo), stood outside Waterloo station brandishing a home made placard looking for love, he could hardly have guessed at the huge response he would receive. Since that appearance, he has been on National TV and radio, and has now been inundated with over three hundred suitor requests.
Fun dating site, DoingSomething.co.uk, has stepped in to rescue Gerald and make sure his dance card is filled with interesting dates.
Head of Partnerships at DoingSomething, Fiona Bateman commented, "We couldn't let poor Romeo endure those god awful Drink/Interview-In-A-Pub-Style-Dates. To give him the best chance of having fun on a date, we took him under our wing. Obviously, we've given him a free DoingSomething subscription too."
Gerald's 2014 dating odyssey started this weekend and his first 'Hot Brunette' date was a triple header. The date started with the couple donning boiler suits and flat caps before being driven on an alternative tour of London in an old school Mini Cooper, courtesy of smallcarBIGCITY.
The Italian date theme continued over lunch at Pizza Pilgrims; the couple attended a pizza making course at the flagship Soho branch. Gerald and his date, PR Consultant Emma, made their own lunch and then sat down to eat whilst discussing who had the finer culinary skills. Lunch was followed by a couple of Birra Morettis, a whistle stop tour of the Pilgrims' kitchen and a spin on the fussball table.
After lunch, it was time for the intrepid couple to finesse their bouldering skills on a climbing wall in a railway arch near London Bridge Station. Whilst rock climbing may, at first, seem unusual for a date idea, it all makes perfect sense. Learning something with someone new is a great date idea and the bonding effects of adrenaline are well documented.
DoingSomething.co.uk CEO and Co-founder Matt Janes explained, "Dating's more fun when you're doing an activity. It's just a much more natural - and fun - way of getting to know someone new. When we heard about this hapless chap, we were determined to make sure he went on the best dates out there."
So what did Waterloo Romeo make of his first date?
Gerald said, "so much better than traditional Internet Dating which gets stale - it was more fun, Emma was a great girl and up for a laugh - it's not every day you meet someone who's up for rock climbing on a first date. Fantastic concept."
Emma added, "I've tried them all: internet dating, speed dating, you name it. DoingSomething takes the pressure off the date, with less awkward silences. From contemplating how you'll both fit into a tiny Mini, to cooking our own lunch and then comparing our climbing ability, all activities were instant ice breakers."
DoingSomething has been inundated with date proposals for Gerald. In addition to lots of 'Hot Brunettes' wanting to date him left right and centre, he has been offered:-

Dinner at a restaurant serving marinated kangaroo, wok-seared frogs' legs and seared zebra
A hot air balloon flight
A dawn kayak trip down the Thames to Big Ben and back
Oh, and a course of Trapeze lessons
Gerald should clear his diary for 2014. It's going to be a busy year.