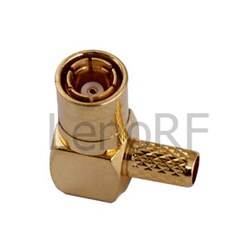 (PRWEB) January 18, 2014
Recently, LenoRF, a long-lasting company of high end connectors, has announced its SMB connector promotion. All the company's SMB connectors are now offered at discounted rates, up to 35% off. According to the CEO of the company, LenoRF launches the special offer to show its gratitude to all new and old clients. Anyone can access the big discounts before February 16, 2014.
"We are excited to announce our fresh connectors and offer the great savings. SMB stands for SubMiniature version B. SMB connectors are coaxial RF connectors developed in the 1960s. They are smaller than SMA connectors. Our SMB connectors feature a snap-on coupling and are available in either 75 Ω or 50 Ω impedance. They can provide excellent electrical performance from DC to 4 GHz. Those who want to buy cheap high quality connectors can visit our online shop now," he says.
In addition to the current promotion, the company often facilitates worldwide distributors by offering big discounts. It strives to make online shopping more convenient and economical for the international customers.
Its service team is knowledgeable and friendly. All related questions will be answered quickly and professionally. What's more, worldwide clients are encouraged to call in to speak to a sales representative when needed.
About LenoRF
LenoRF is a famous global manufacturer of coaxial connectors and cable assemblies. The company has been specializing in the industry for several years and it insists on providing effective turnkey solutions for radio frequency system. Its customers include worldwide OEMs, distributors and system integrators from various fields like broadcast, land-mobile, wireless communications, microwave market sectors and so on.
For more information, readers can visit http://www.coaxial-connector.com/product/smb-female-right-angle-for-bt3002/.