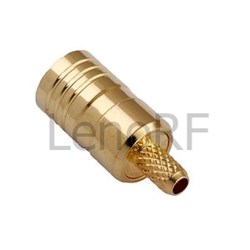 (PRWEB) January 21, 2014
LenoRF, the famous manufacturer and retailer of SMB products, has recently unveiled its new collection of SMB male connectors and launched its New Year special offer. The company will keep focusing on top quality devices in 2014.
"We are proud to announce the new items. We are striving to provide worldwide customers with comprehensive connector solutions. As you know, we have been working in the industry for several years; we know what clients actually need. Worldwide distributors do not have to worry about anything when shopping at our website," the CEO of the company states.
Among all the brand new SMB male connectors, the version "SMB Male Straight For RG-316" is the hottest. Here are some details of this version:
--Impedance:50 ohms
--Frequency Range: DC-6 GHz
--VSWR: 1.2max@ DC-4 GHz
--1.5max@ 4-10 GHz
--Mating: Snap-on coupling
--Durability: 500 cycles minimum
--Body and outer contacts: Brass, nickel or gold plated
--Male Contact: Brass, Gold plated
--Female Contact: Beryllium copper or phosphor bronze, gold plated
--Crimp ferrule: Copper or brass, nickel plated
--Insulator: LCP,PTFE or PFA
--Quick Connector and disconnecto with snap-on mating structure
--Low reflection DC to 4GHz provides low cost connector with high quality
--Applications: GPS, Telecom, Broadband Communications, Antenna, WIFI&WLAN device, Cable assemblies, Cell phone, Radio Boards.
LenoRF is a reliable online supplier in the global market. All the company's workers have a good acknowledged. The company wants to create more high quality devices at possible lowest prices.
About LenoRF
LenoRF is a famous global manufacturer of coaxial connectors and cable assemblies. The company has been specializing in the industry for several years and it insists on providing effective turnkey solutions for radio frequency system. Its customers include worldwide OEMs, distributors and system integrators from various fields like broadcast, land-mobile, wireless communications, microwave market sectors and so on.
For more information, readers can visit http://www.coaxial-connector.com/product/smb-male-straight-for-rg-316/.