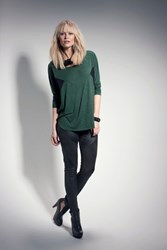 In the age of evolving online shopping, we'd like to make the experience more personalized and introduce ourselves to our customers
Toronto, Canada (PRWEB) January 16, 2014
The unique mommy style clothing store, Apricot Collection, would like to get its customers more background about the woman who started the business and the collaboration it's been doing in the past year with other mommy bloggers.
Apricot Collection was founded by Michelle Herscu in late 2012. She is a mom of two adorable kids, who is not willing to compromise her personal style no matter where she goes. After years of looking for cuts and styles to fit and compliment her figure, she decided to start her own online clothing store for busy women and moms like her who are looking for pieces that are more unique and interesting with a "boutique" feeling to them.
Later on, while collaborating with different bloggers (mainly mommy bloggers), she realized they could all work together and create an interesting platform for Apricot Collection's client base by offering unique clothing combined with good quality content and a possibility to answer styling questions.
Apricot Collection currently collaborates with four main bloggers and contributors:
Beth Sanborn is the woman behind "Far From Camelot" blog. Sanborn started blogging about 4 years ago after moving a state. She's a mom to 5 years old – Riley Benjamin and like the rest of the team has a passion for fashion (but mainly – bags!). As the Marketing Director of Apricot Collection, Sanborn is in charge of the media communications and for finding new marketing niches.
Mia Sanchez-Pellot has been blogging for over 3 years now and is devoted to living a happy lifestyle. As the main fashion and beauty content contributor on Apricot Collection's blog, you can find advice on creating different outfits, hair styling and make-up tips. Three items she can't live without? Shoes, designer handbags and Maxi dresses. You can find more about her on her blog LatinFlava Designs.Lisa Pol
lard is the main reason that Apricot Collection carries a plus size line and as our Plus Size Director, her mission is finding new plus size designs that would be stylish, complimenting, fitting and affordable. Lisa enjoys blogging about anything and everything, all while having fun. Read some of her musings on "Insignifican t At Best" blog. A
pricot Collection has also a tight collaboration with Ashleigh Scott, who is an internationally renowned full-figured model, make-up artist and a guest stylist on the successful show, CityLine.
Ashleigh is very excited to be expanding her business to include personal styling and full image consulting services. Her goal is to help real women find their best style with practical beauty and fashion advice all while maintaining their individuality and budget. Ashleigh loves fashion and looks forward to helping Apricot Collection's women find their true style!
Apricot Collection would love to collaborate with other mommy bloggers, specifically ones who write about style and fashion and the combinations of these with motherhood. If you'd like to contribute to this unique mommy style online store, please contact Michelle Herscu.
About Apricot Collection:
Apricot Collection is a Canadian based online retailer which came to life after Michelle Herscu, founder & owner, decided to combine her love to fashion with her love to business. She always felt like the market wasn't offering enough and online stores usually target one audience, whether it's young girls or just a specific style. That's why today she's always looking for new brands to add to the collection and each piece represents a different style for various occasions. Another element that's important to her is to ensure quality is never compromised. Whether it's classic-chic, feminine, bohemian or vintage, Apricot Collection offers them all, and as time progresses, the company adds more brands and new styles.