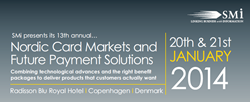 (PRWEB UK) 14 January 2014
Delegates to the conference will gain a comprehensive understanding of market and technology developments for the card services and payment solutions sector in the Nordic region by hearing from experienced product, strategy, and innovation leaders leaders giving presentations on the following themes:
•Future payment solutions strategy: Delivering the right technology
•Consumer insight and research: How will customers want to pay in the cashless society?
•International m-payments product development case studies VALYOU, SWIPP, Mobiel Betalen Nederland, and MobilePay
•How Big Data and predictive analytics can help mature the payments market
•How will Bitcoin disrupt the future payments market topology?
Key presentations at SM's 13th Nordic Card Markets conference include:
•Delivering cards and payment solutions that customers actually want
Fredrik Sauter, General Manager Nordics, American Express Ltd, Proprietary Card Services
•Retail Payments post 1st February 2014 and the next phase for SEPA
Michiel Van Doeveren, Senior Policy Advisor, De Nederlandsche Bank (Dutch Central Bank)
•VALYOU - launching NFC services in Norway
Tor Jacobsen, Chief Executive Officer, TSM Nordic
•How will Bitcoin disrupt the future payments market topology?
Michael Gronager, Chief Operating Officer, Payward
•Case study: Danske Bank's MobilePay
Bo Tolstrup Christensen, Chief Consultant, Danske Bank Group
•How to migrate to virtual cards for mobile
Kasimir Hirn, Vice President, Head of Cards, OP Pohjola Group
Participating financial institutions include:
•Swedbank
•Nykredit Group
•Nordea
•De Nederlandsche Bank
•Ing
•ABN AMRO
•Danske Bank
•Swedbank Card Services
•American Express
•OP Pohjola Group
•Payward
•TSM Nordic
•EnterCard
•S-Bank
•Visa Norge Bankgruppe
•JPMorgan
•Ekspres Bank
There is only one week until the event and only 5 places left so we advise you to book you place as soon as possible. To do so visit the website or contact Mohammed Malik on +44 (0) 20 7827 6166 or email mmalik(at)smi-online(dot)co.uk.