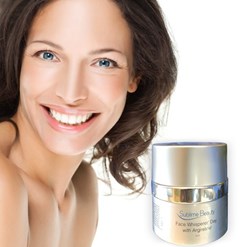 The Face Whisperer® day cream features Argireline® (the natural botox) to relax wrinkles and Trylagen® to boost collagen production.
St. Petersburg, FL (PRWEB) January 15, 2014
The Face Whisperer® products are about improving skin quality, and the popular Face Whisperer® Day Cream is now on sale. The day cream features Argireline® (the natural botox) to relax fine lines and wrinkles.
"Our day cream also includes the patented formula Trylagen® which boosts collagen production - essential for youthful skin," says Kathy Heshelow, founder of Sublime Beauty®.
"Many of our products have key ingredients that encourage collagen production," said Heshelow. "We lose collagen as we age and this is a contributing factor to wrinkles and look of aging."
The Face Whisperer® creams have been featured on the Ion and History channels at Consumer NewsWatch, and on NCN.
The Face Whisperer® line includes a Night cream with Matrixyl®, a Neck & Decollete cream and a new Advanced Eye Gel. "The Advanced Eye Gel diminishes dark circles, bags and wrinkles with patented and tested ingredients," says Heshelow.
The day cream includes excellent moisturizers and is a semi-lucid cream that is good for all skin types. It is on sale, and is available at Amazon with free shipping and secure checkout. A new Sublime Beauty® webstore is launching soon and will be available for Amazon Prime members with all of its benefits.
"We run special secret discounts each month on products. Sign up on our website to benefit, and read about the importance of collagen to our skin," says Heshelow.