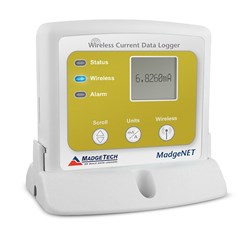 Warner NH (PRWEB) January 14, 2014
The RFCurrent2000A is available in three different models, 20mA, 160mA and a 3A measurement range. All models feature a terminal port input connection and can be used with a wide variety of sensors for different applications (sensors not included). The RFCurrent2000A can be interfaced with output sensors for monitoring flow rate, pressure monitoring, pH transmitters and more.
As with all MadgeTech Wireless Data Loggers, you can start, stop and download your data wirelessly, allowing less time maintaining the data logger and more time in use. Real time data can be transferred to a central PC or downloaded at periodic intervals. The added benefit of a digital display provides current readings in addition to minimum, maximum and average statistics. The new statistic reset feature, now standard with all 2000A series data loggers, allows the user to reset the statistical count of the logger without needing the software every time. This feature still keeps the pervious recorded data, allowing for easy retrieval from the software. Out of range notifications are signaled by an audible buzzer and an LED light alarm that notifies the user when the condition is above or below the desired threshold set by the user. Other notifications such as email, on-screen and text message alerts can also be configured.
This wireless data logger can be utilized as a single standalone logging system or can be expanded to a larger scale system that can include hundreds of other loggers; (additional MadgeTech wireless data loggers and transceivers may be required.) The RFCurrent2000A uses the latest MadgeTech 4 software, available to download free from http://www.madgetech.com. MadgeTech 4 is an all-in-one package for storing files, creating formal reports, and performing in-depth analysis. Data downloading from data loggers is automatically saved to the internal file data base, ensuring original records are always maintained. Customizable graphical, tabular and statistic reports can be created to present to clients, auditors, or kept for a physical archive. The software features the ability to export to Excel®, data annotation, digital calibration and more. The RFCurrent2000A is priced at $289.00 USD, discounts available for quantities. For more information, please visit http://www.madgetech.com or call (603) 456-2011.