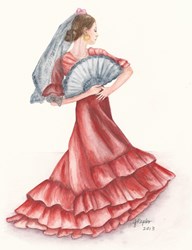 Carmen is one of the World's most well-loved operas.
Warren, NJ (PRWEB) January 21, 2014
Eastern Opera of New Jersey opens its second season Georges Bizet's "Carmen", a fully staged four act opera, on Saturdays and Sundays March 22, 23, 29, and 30. Saturday performances will begin at 8:00 p.m. and Sunday performances at 3:00 p.m. at the Brook Theater in Bound Brook. "Carmen" will be sung in English with a brand new translation written by the company's General Director Karole Lewis and is suitable for all ages.
No man can resist "Carmen"'s gypsy allure, but when she's finished with a man, lookout! One of the most iconic characters in opera is the ferociously liberated and determined Carmen, created from the pages of Prosper Mérimée's nineteenth century novel. Desiring independence more than anything, she's willing to die to keep that freedom. A contemporary woman in every sense, Carmen loves as she wishes with the kind of sensual passion reserved only for men during the historical writings of the period.
An enthralling drama of love and jealousy, packed with well-known enchanting tunes and entertaining dances, "Carmen" is one of the world's most well-loved operas. With impressive bursts of color, the exciting production brings the wonders and sounds of Seville to life, from the dusty town center to the thrill of the bullring. Bizet's unforgettable score overflows with one pleasure after another, a music lover's display of opera's most intoxicating melodies.
Dr. Robert Butts, Artistic Director and Conductor for "Carmen", comments on the human element of "Carmen", which he states is worthy of radical critic response in both modern times as well as 150 years ago. Butts, Conductor and Music Director of the Baroque Orchestra of New Jersey, discusses "Carmen"'s place in the overall evolvement of opera. He said, "In its original form, "Carmen" did not have the recitative one associates with opera, but spoken dialogue. When one considers the use of popular songs connected with spoken dialogue interspersed with big production numbers, one realizes that Bizet was breaking with Romantic tradition and pointing in a new direction – theatrically, musically, and emotionally." Butts said that the form Bizet uses in "Carmen", in conjunction with other composers of the time and "an awakening American artistic awareness, "Carmen" can be said to have set the stage for the Broadway Musical."
This presentation of "Carmen" is the first opera in Eastern Opera Company's 2014 season. Eastern Opera was established in 2012 by General Director, Karole Lewis. Of this production, Lewis said "We are excited to present Carmen to the public. It is set in early 1800 Seville, which is what the librettists Henri Meilhac and Ludovic Halévy intended. The melodies are memorable and familiar. The story is filled with passion. The singers bring the piece to life with the accompaniment of a wonderful orchestra lead by Dr. Butts. There is no doubt that the audience will be humming as they leave the theater."
One of the most widely performed operas and with a score consisting of numerous unforgettable arias, this production of "Carmen" is excellent for both longtime opera enthusiasts and newcomers to the world of opera. Music Director, Paul J. Carroll said, "So much of the music is universally familiar. Even those who have never been to an opera will recognize a great deal of the music."
"Carmen" was first performed at the Opera Comique, Paris, on the 3rd of March 1875. While many attended, nobody seemed to have much thought of the opera at that time. It is said that it wasn't until it was sung in Italian in England in June of 1878 that the opera became a success. Amazingly "Carmen" has now become the main stay of every opera company throughout the civilized world, and while it is presented regularly, the audiences never tire of the endless melodies and riveting drama.
"Carmen" will be performed in English with vocalists from throughout the state of New Jersey and instrumentalists of the Baroque Orchestra of New Jersey.
About Eastern Opera of New Jersey:
Eastern Opera Corp. is a nonprofit corporation organized and operated exclusively for charitable purposes. Specifically, Eastern Opera has been formed to encourage and instruct individuals for the purpose of improving and developing their capabilities, to educate the public on subjects useful to the individual and beneficial to the community, and to promote the arts and culture to the local communities. The first opera performance, Puccini's Madama Butterfly (May, 2013) was met with standing ovations. For more information contact Lou Kersey at loukersey(at)easternopera(dot)org or visit http://www.easternopera.org.
Tickets for "Carmen" are $35 general admission, $25 for students and seniors, and free for children under 12, and may be ordered by calling 908-566-5708 or online at http://www.easternopera.org/tickets. For more information, please visit http://www.easternopera.org.