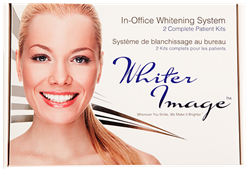 Atlanta, GA (PRWEB) January 14, 2014
Whiter Image Dental has once again showcased their client-centric approach to customer service with the release of two improved teeth whitening products. In addition to innovating new teeth whitening products on their own, Whiter Image Dental Co-Founder Brad Stevens encourages clients to provide feedback on how the brand can make products even better. The results from this feedback have spurred the lab team at Whiter Image Dental to improve two of the brands most popular take-home and in-office whitening products.
In recent months, Whiter Image Dental has released the reformulated Take Home Kit as well as the In-Office Whitening System based on direct responses from the dentists who use it most. The Take Home Kit was reformulated to a 12 percent hydrogen peroxide solution and the In-Office Whitening System underwent an even more extensive overhaul. To keep up with the requests of Whiter Image Dental's most demanding clients, the In-Office Whitening System was reformulated to a more effective 30 percent hydrogen peroxide solution that maintains the low sensitivity expectations of patients worldwide. In addition to improved results Whiter Image Dental was also able to create the product to be refrigeration-free; negating the need for expensive shipping costs due to the added cost and weight of ice packing.
The in-office whitening gel took two years to develop and features four different types of stabilizers and a hydrogen peroxide solution designed for in situ activation. Although this gel and the Take Home Kit have proven to be as effective as or more effective than competing products they are priced 30 to 50 percent less than comparable products. "New clients are surprised to see how well our products work when put up against more mainstream and expensive big name whiteners," says Whiter Image Dental Director of Marketing Christopher Morrison. "Our existing clients, on the other hand, are used to getting high quality products at an affordable price."
Whiter Image Dental's customer service dedication is paying off for dentists and their patients. Currently the company has clients in 31 countries and six continents and looks to continue to grow its global reach with client-first service as well as innovative products that help dentists save money without sacrificing quality. To learn more about Whiter Image Dental's long line of products and services contact them at 877-944-8330 or visit them online at http://whiterimagedental.com/.