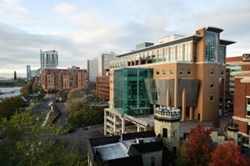 The grant provides resources to facilitate efforts to eliminate bias, primarily unintended bias, present in the minds of men and women.
Hoboken, NJ (PRWEB) January 14, 2014
The National Science Foundation (NSF) has awarded a grant to Stevens Institute of Technology to help retain and advance female faculty in science, technology, engineering and math (STEM) fields.
ADVANCE Stevens, a $550,000 five year grant, is part of the NSF's ADVANCE PAID (Partnership in Adaptation Implementation and Dissemination) program created to develop systemic approaches to increase the representation and advancement of women in academic STEM careers. The NSF ADVANCE program began in 2001 to catalyze change to transform academic environments in ways that enhance the participation and advancement of women in science and engineering.
"ADVANCE Stevens supports the strategic plan's focus on improving faculty diversity,'' said Susan Metz, director of diversity and inclusion at Stevens and principal investigator of the grant. "The NSF grant provides resources to facilitate efforts to eliminate bias, primarily unintended bias, present in the minds of men and women and embedded within policies and practices of organizations that make it more difficult for women to succeed in academia.''
Metz stresses that the strategies, practices and policies implemented will benefit both male and female faculty and result in a richer educational experience for students.
The goals of ADVANCE Stevens: Creating a Sustainable Culture that Facilitates Retention and Advancement of Women Faculty in STEM are to:
Facilitate positive and inclusive institutional and departmental cultures to enhance success of all STEM faculty.
Engage Tenured/Tenure-Track and Full-Time Non-Tenure Track women STEM faculty in ADVANCE Stevens activities to broaden and strengthen professional networks to facilitate retention and advancement of faculty within both groups - "a potential national model and source of best practices," according to the NSF ADVANCE program officer.
Some of the strategies to achieve these goals include a workplace climate assessment, review of work-life policies, leadership and professional development seminars and mentoring.
Faculty committed to ADVANCE Stevens include Co-PIs: Adriana Compagnoni, associate professor of computer science; Pat Holahan, associate professor of management; and Keith Sheppard, associate dean of engineering and science. A team of outstanding faculty and administrators have volunteered to participate on the ADVANCE Stevens Steering Committee.
"Women represent more than half of the population, more than half of those enrolled in higher education, and nearly half of the workforce, yet they are persistently underrepresented in STEM fields,'' said Nariman Farvardin, president of Stevens. "Unless we as a society do everything we can to harness the talent of women – as well as others who are underrepresented in the technical fields – we are under utilizing resources sorely needed to solve the complex challenges the U.S. faces in the 21st century. I'm delighted that Stevens is playing a leadership role in this important national effort.''
The Steering Committee consisted of: Anthony Barrese, Ph.D., Distinguished Service Professor & Associate Dean, Stevens' School of Systems and Engineering (SSE); Ronald Besser, Ph.D., Professor of Chemical Engineering & Materials Science; Roberta Cohen, Ph.D., Industry Professor at SSE; Mo. Dehghani, Ph.D., Vice Provost of Research; Frank Fisher, Ph.D., Interim Director of the Department of Mechanical Engineering; Jennifer McBryan, Ph.D., Teaching Assistant Professor at Stevens' College of Arts and Letters (CAL); Ann Murphy, Ph.D., Associate Dean at Stevens' Howe School of Technology Management; Anthony Pennino, Ph.D., Assistant Professor at Stevens' CAL; Julie Pullen, Ph.D., Director of the Homeland Security, National Center for Excellence in Maritime Security; Mark Samolewicz, Vice President Human Resources at Stevens; Svetlana Sukhishvili, Ph.D., Professor of Chemical Biology and Biomedical Engineering; and Agata Wolfe, Ph.D., Director of Institutional Research, Institutional Research at Stevens.
The NSF is an independent federal agency that supports fundamental research and education across all fields of science and engineering. NSF funds reach all 50 states through grants to nearly 2,000 colleges and universities and other institutions. Each year, NSF receives about 50,000 competitive requests for funding and makes about 11,500 new funding awards.
About Stevens Institute of Technology
Stevens Institute of Technology, The Innovation University®, is a premier, private research university situated in Hoboken, N.J. overlooking the Manhattan skyline. Founded in 1870, technological innovation has been the hallmark and legacy of Stevens' education and research programs for more than 140 years. Within the university's three schools and one college, more than 6,100 undergraduate and graduate students collaborate with more than 350 faculty members in an interdisciplinary, student-centric, entrepreneurial environment to advance the frontiers of science and leverage technology to confront global challenges. Stevens is home to three national research centers of excellence, as well as joint research programs focused on critical industries such as healthcare, energy, finance, defense and STEM education and coastal sustainability. The university is consistently ranked among the nation's elite for return on investment for students, career services programs and mid-career salaries of alumni. Stevens is in the midst of a 10-year strategic plan, The Future. Ours to Create., designed to further extend the Stevens legacy to create a forward-looking and far-reaching institution with global impact.