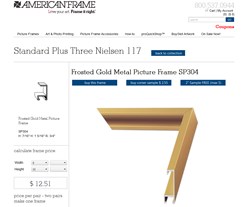 (PRWEB) January 15, 2014
American Frame, the leader in online, DIY framing, has completely re-imagined its website to take full advantage of the latest capabilities in graphics, navigation, and design. Users will immediately notice the simplified look, with fewer colors, larger and cleaner black-on-white lettering and new drop-down menu navigation which makes finding the many products, services and advice American Frame offers much easier.
Amid the dozens of new and improved aspects of the site the Frame Detail page stands out. Featuring a 360 degree animated view of each frame, zoom images, and detailed product descriptions with measurements and price charts, this function brings the virtual frame to within a hair's breadth of the real thing. Customers can still order samples, of course, but they may no longer feel the need.
Laura Jajko, VP of Marketing, describes the Frame Detail page as an industry 'game changer.' "Everything customers need to know about a frame is there, in a simple, visually pleasing interface. Photographing our entire collection for the 360 degree views was a painstaking process, but the team did a beautiful job and I think customers will find the tool indispensable when choosing the best frame for their artwork."
Other technical improvements include live-time inventory feedback, a more flexible and transparent ordering process, compatibility with the latest browsers (plus one prior version), improved password reset options and the ability to accept image uploads for printing up to 100MB.
New products and services launched along with the website include frames sized to accept 5"x5" mats with windows as small as a postage stamp, the ability to build a frame treatment either by artwork size or by frame size, new paper substrates for fine photographic printing (Canson Bartya and Slickrock Metallic), updated how-to pages, online ordering of fine art prints on archival Plexiglas® or aluminum, reverse-cut and full-sheet mat boards as well as oversized mats in black, white and ivory.
Artists and art buyers will also see a whole new Art Gallery, with enhanced search options within the gallery as well as better optimization for outside search engine results. "When customers plug in an artist's name, American Frame's gallery will be one of the top hits," Ms. Jajko explains. "That's what reaching people is all about these days—targeted, intelligent search results, and that's what our new site provides. This means artists in our gallery can focus on producing work and leave selling, printing, framing and shipping to us." The Art Gallery will remain a free service to the art community.
The new site's launch marks the culmination of a year-long celebration of the company's 40th anniversary as the leader in DIY framing.