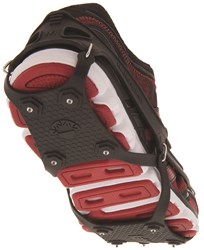 The technology and evolution of the NANOspikes™ makes them one of a kind, and we know it's going to change the way people think about running in winter.
Flagstaff, AZ (PRWEB) January 14, 2014
Today, Kahtoola, a leading innovator in outdoor footwear traction, proudly announces the launch of their newest product - NANOspikes™ footwear traction.
Created specifically with runners in mind, NANOspikes™ offer lightweight, trim, durable and comfortable traction that easily slips over any running shoe; making it possible to jog, sprint, train and walk securely in any weather condition.
Training for sporting events like a 10k or half-marathon can be a grueling process – especially when living in a climate with wet and cold winters. Long runs outdoors in harsh conditions are not only uncomfortable, but can also be dangerous. That's why Kahtoola developed NANOspikes™ footwear traction. Each element of NANOspikes™ was carefully designed to ensure unparalleled comfort, durability and traction to help keep focus on the goal ahead, not on the ground below.
"We are thrilled to announce the launch of the NANOspikes™," said Danny Giovale, founder of Kahtoola. "It's an exciting addition to our line of traction products. Each and every aspect of the product was created with runners' needs in mind. We took the time and care necessary to ensure every piece was analyzed, tested and improved. The result is a product we couldn't be more confident in. The technology and evolution of the NANOspikes™ makes them one of a kind, and we know it's going to change the way people think about running in winter."
Designed to be lightweight, comfortable and durable, NANOspikes™ are ideal for runners, joggers and walkers that have been limited to the indoors due to slippery outdoor conditions. Specific developments include:
Security: Designed to offer the best in traction in the worst of conditions, the NANOspikes™ are built with the following traction-specific technologies:
o Evolved Spike Design: A tapered and stepped cleat around a hard tungsten carbide stud allows the spike to be moved away from the foot, creating shock absorption and a better bite on the ice. This two-part design makes for excellent stability and traction on all terrains. To ensure durability and reliability, the carbide stud is held in place with a lightweight aluminum anchor.
o Complete Spike Coverage: With 10 spikes and a textured sole, NANOspikes™ offer groundbreaking traction on any type of terrain.
o Upward Traction: Think of them as tiny 'grips' that keep the NANOspikes™ on the shoe. Small cleats interface with the tread on a shoe to keep them secure and in place.
o Dual Compound: By combining and fusing flexible and semi-rigid materials into sturdy plates, comfort and performance co-exist, allowing the energy of each step to transfer directly to the spikes while protecting the foot.
Comfort: No matter how great the traction, if it isn't comfortable, it won't work. NANOspikes™ were built with the following technologies to ensure a comfortable and secure fit during wear:
o Low Profile: With a base height of 0.125" and a spike height of 0.210", the Traction Plates are comfortable, low profile and encourage a natural stride.
o Built-in Snow Release: An integrated Snow Release system in the Traction Plates leaves the center of each Traction Plate flexible, which aids in snow shedding with each step.
o Ergonomic Elastomer Band: With a refined profile, the band provides a uniform stretch over the entire foot for improved comfort, without the need for straps or buckles.
Flexibility & Durability: The body works hard enough to propel itself forward. Footwear shouldn't hold you back. Each component of the NANOspikes™ traction was designed to seamlessly move with the foot, encouraging farther and longer runs. Design specifics include:
o Elastomer Eyelets: NANOspikes™ are designed with inset and overmolded eyelet reinforcements for a streamlined fit that easily conforms to the contours of any footwear and eliminates tear outs.
o Polymer Connections: Tough and flexible connective pieces from the Traction Plates to the Elastomer Band allow limited stretch and resist abrasion.
o Elastomer Harness: The lightweight and trim harness provides a uniform stretch over the entire foot, without sacrificing strength or durability or the need for straps or buckles.
About Kahtoola:
Founded in 1999, Kahtoola offers innovative, high-performance outdoor products that get people where they want to go. Based in the high mountain town of Flagstaff, Arizona, Kahtoola combines their love of winter with their love of technology to create exceptional products.
Kahtoola is also proud to donate 1% of sales revenue to organizations that work to preserve indigenous mountain cultures worldwide through the Kahtoola for the People grant advisory board.