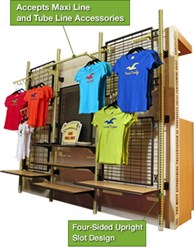 Luxe gives retailers the versatility to develop a unique in-store experience.
Terrell, Texas (PRWEB) January 15, 2014
Today Madix, Inc. introduces a new product line, Luxe. Luxe helps retailers create an upscale environment, while maintaining the simplicity of installation that customers appreciate. Pieces from this product line can be combined to form several configurations including tables, freestanding units, and wall anchored units. Luxe is perfectly suited for merchandising a variety of merchandise for apparel, shoes, home and soft goods merchandising, whether it's outfitting your whole store or a store within a store.
Luxe is configurable and adaptable for use in any retail environment. Create limitless fixture designs with the innovative, patent pending slotting design located on all four sides of the upright. Clean lines and versatile slotting allow retailers to upgrade their fixtures, but still utilize Madix's Maxi Line and Tube Line shelving and accessories. The system has integrative back panel systems that are made of wire or perforated metal. Luxe gives retailers the versatility to develop a unique in-store experience.
About Madix, Inc.
Madix is one of the largest manufacturers of store fixtures in the world. It is based out of Terrell, Texas with manufacturing facilities also in Goodwater, Alabama and Eclectic, Alabama. Madix is known for innovative solutions that are customized to client's needs, as well as creative and unique ideas that influence trends in the industry. Additional information on Maxi Grid and our other product lines can be found at http://www.madixinc.com.