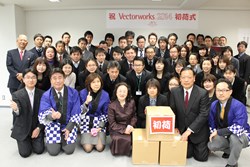 (PRWEB) January 14, 2014
Nemetschek Vectorworks, Inc. is pleased to announce the availability of the Japanese-language version of the Vectorworks® 2014 line of design software, including: Vectorworks Designer, Architect, Landmark, Spotlight, Fundamentals and Renderworks®.
A&A Co., Ltd., the distributor of Vectorworks software in Japan, held a series of pre-launch events last month to introduce the new version of Vectorworks software to designers across the country and, beginning today through February 24, the company will hold several online product launch events, as well. More information about the online events can be found here: http://www.aanda.co.jp/seminar/web/Vw2014.html
The Vectorworks 2014 software contains more than 130 improvements, including new BIM tools for architects, increased site design capabilities for landscape architects and designers, as well as enhancements to lighting devices, documentation and graphic controls for entertainment designers. Visit http://www.vectorworks.net/2014 to learn more about all the new features in Vectorworks 2014 software.
The release of the Japanese localized version of Vectorworks 2014 continues the global rollout of the software. The English-language version was launched on Sept. 17, 2013; several localized versions were released across Europe in October and November of 2013; the Portuguese localized version was released in Brazil on Oct. 31, 2013; and the Spanish-language version was released on Nov. 26, 2013.
Please visit http://www.vectorworks.net/international to find a local distributor.
About Nemetschek Vectorworks, Inc.
Nemetschek Vectorworks, Inc. is the developer of Vectorworks software, a line of industry-specific CAD and BIM solutions that allow designers to easily capture, develop and communicate their ideas with accuracy and efficiency. With more than 450,000 users around the world, Vectorworks software is a global leader in 3D design technologies for the AEC, landscape, and entertainment industries. Nemetschek Vectorworks was founded in 1985 and has been a part of The Nemetschek Group since its acquisition in 2000. For more information, visit http://www.vectorworks.net.
# # #