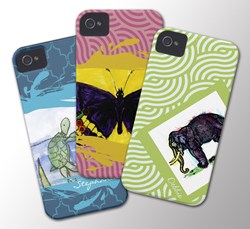 "An Internet platform where parents upload Instagram pics of their children's art, then make custom keepsakes."
Orlando, FL (PRWEB) January 22, 2014
When a Delaware mom began searching for fun and creative ways to showcase her daughter's art, she stumbled upon a new business idea that's taking the mom-world by storm.
Mom-entrepreneur Debbie Lewis owns and operates Junior Monet (http://www.juniormonet.com), an Internet platform where parents upload photos of their children's art, and then customize them with her beautiful motif on keepsake products. Today she announced her website is now fully integrated with Instagram, making for an even easier user experience.
Junior Monet was founded shortly after the birth of Debbie's second child. She left her full-time career as a corporate design director to work from home and spend more time with her children. She was run- ning a small freelance agency when she created a few art keepsake products for her friends and family.
"They asked me what store I purchased them from so that they could get more," she says, "they didn't realize that I created them!" "Within a year the designs and motif were featured on more than 50 products and orders came in from all over." The mom-blog world gives Junior Monet rave reviews, and a non-profit pediatric art therapy program for children with cancer called Tracy's Kids receives 5% of all sales.
"As a mom, I like to think my children's art is the best décor for my home, but I struggled with ways to present it. Now it's as simple as snap, upload, and click," says Debbie.
"I also wanted a way to share my children's art with family and friends who live far away. My husband's parents live abroad and keeping them up-to-date with my children's artistic creations is difficult," says Debbie. "Plus, with a daughter in preschool I wanted a way to save all of her art rather than just throw- ing it away." Junior Monet now offers a free online art gallery for moms to create, save and share their children's art with others as well as order keepsakes. It only takes minutes to create and allows you to use your Instagram photos.
Junior Monet also partners with Zazzle.com to offer high-quality keepsake products including apparel, canvas and posters, greeting cards, jewelry, tote bags, iPhone cases, and more. Each product is uniquely created online and can be personalized with a child's art and name.