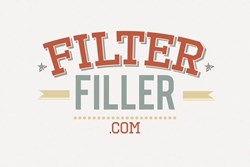 ...the repairman held up the dirty filter from the unit and asked my friend when he had last changed it.
Oxford, MS (PRWEB) January 16, 2014
It all started with a dirty AC filter. A dirty filter that, in fact, turned out to be very costly.
When the air conditioning unit went out one sweltering summer day at a friend's office, Jeff Berry never would've guessed the culprit. "The repairman told my friend that the unit needed to be completely replaced, and that a new unit would cost him $4,000," says Berry, CEO of the newly launched FilterFiller.com. "My friend wanted to know what had caused the unit to go out, and the repairman held up the dirty filter from the unit and asked him when he had last changed it." Berry's friend had no clue when he last changed his filters or what size they were, and it got Berry thinking that he didn't know the answer to those simple questions either.
Berry considered the hassles of replacing the filters at his own home and figured that if his friend had avoided this necessary chore – and at a tremendous expense – there had to be others out there who were doing the same thing. "My wife reminds me to do it, but by the time I've driven to the store, inevitably called my wife to see what size filters I need to buy, and driven back home to change them – sometimes only to discover I've managed to purchase the incorrect size, which then sends me right back to the store – I've dedicated an unnecessarily large part of my day to one single chore. I knew there had to be a better way."
This epiphany led Berry to launch FilterFiller.com, an internet-based company that delivers clean air filters directly to its customers' front doors, for about the same cost they pay now. Berry's goal was to minimize the time investment required in the filter replacement process. Customers sign up online by entering the size of their filters and how often they'd like to change them (based upon the website's recommendations), along with shipping and billing information. Filters are packed and shipped from the company's Oxford, Mississippi, headquarters, which just so happen to neighbor the office of Berry's friend whose dirty filter ignited the creation of FilterFiller.com.
In his research, Berry found that since many homes or offices have multiple heating and air conditioning units, it was important to custom label each filter. Customers enter names for each unit into their online profile, so that when the filters arrive they know which is "the one above the garage" and which is "the one in the hallway." Berry also discovered the importance of including a trash bag for easy disposal of the old dirty filters. Finally, to remove any remaining guesswork from the process, FilterFiller.com emails customers reminding them that it's time to replace their filters.
"Apart from helping your AC unit cost less in electricity and repair bills, what I didn't realize about regularly changing your filters when I started this journey was the many health benefits it brings," Berry adds. "Talk of helping prevent dust mites, dander, mold and cooties resonates particularly with our female audience, and everyone can appreciate reduced utility bills that regular filter maintenance can bring."
About FilterFiller.com
FilterFiller.com delivers clean air filters, custom-labeled for each of your units, along with a trash bag, directly to your front door, when they need to be replaced. We do everything but put it in for you! Visit FilterFiller.com for more information.