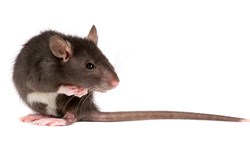 If there is one mouse in your home, there are bound to be more and ignoring the signs of a potential infestation can cause damage to your home and create health-related risks.
Parsippany, NJ (PRWEB) January 15, 2014
Rodents are the number one winter pest pressure for homeowners. According to the National Pest Management Association (NPMA), rodents invade about 21 million homes each winter. Experts from Western Pest Services, a New Jersey-based pest control company with branches throughout the Mid-Atlantic and Northeast regions, provide homeowners the top 10 signs that may indicate a rodent infestation.
1. Scampering, rustling and clawing sounds in the attic and walls, particularly at night
2. Chewing sounds, which may sound like heavy scratching
3. Low-pitched chirps or squeaks
4. Gnaw marks on stored food, walls and wires
5. Small, rice-sized droppings throughout the house
6. Piles of nesting materials, including shredded paper, bunches of dry grass or small twigs, fabric, and furniture stuffing
7. Smudges or grease markings on the walls caused by the oil and dirt in rodent coats
8. Foot prints or tail marks in dusty spots
9. Urine pools or trails
10. Live or dead rodents
"While rodents are a year-round problem, winter is when homeowners see the most of this pest because mice and rats move indoors when temperatures drop, in search of food and shelter," says Hope Bowman, technical specialist for Western Pest Services. "If there is one mouse in your home, there are bound to be more and ignoring the signs of a potential infestation can cause damage to your home and create health-related risks."
Rodents are known to spread more than 35 diseases worldwide, according to the Centers for Disease Control and Prevention, including the potentially fatal Hantavirus and salmonella. Mice and rats can also introduce disease-carrying fleas and ticks into homes. These pests can also cause serious damage to the structure of a home. According to the NPMA, it's estimated that rodents cause up to 25 percent of house fires in the U.S. every year.
"Rodents will chew through anything they can: wood, drywall, attic insulation and even electrical wires, which can increase the risk of house fires," says Missy Henriksen, vice president of public affairs for NPMA. "Homeowners should look at prevention as the first line of defense against these pests and take the necessary steps to keep them out of their homes."
The experts at Western Pest Services recommend taking precaution when signs of rodents are discovered.
"Often, do-it-yourself solutions are not effective quickly enough, allowing rodents to continue breeding," says Bowman. "If you find signs of rodents in your home, contact a pest management professional immediately. A trained professional will understand the biology of the rodent at hand and use his/her knowledge to control the problem quickly, effectively and, most importantly, in the safest way possible for your family."
About Western Pest Services
Founded in 1928, New Jersey-based Western Pest Services provides quality pest control to residential and commercial customers with services including termite control, bed bug detection and extermination, stink bug control, mosquito control and home protection plans. Serving the Northeast and Mid-Atlantic United States, Western is a wholly-owned subsidiary of Rollins, Inc. (NYSE: ROL). Learn more about Western by visiting http://www.westernpest.com. Connect with Western Pest Services on Facebook and YouTube, or on Twitter @WesternPestSrvc. Learn more about Rollins by visiting http://www.rollins.com.