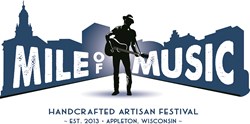 The first year offered a really exceptional roster of talent. Our intent for Mile 2 is to keep this exciting mix of music coming.
Appleton, WI (PRWEB) January 14, 2014
Following its hugely successful debut in 2013, the Mile of Music festival is set to return to Northeast Wisconsin this summer, and organizers are now accepting artist submissions for consideration.
The four-day event, dubbed as "Mile 2," will run from August 7-10, 2014, at multiple venues across Downtown Appleton with upwards of 30,000 attendees expected. It will feature the original music of singer-songwriters, combos and multi-piece bands showcasing all types of Americana performances ranging from roots and indie rock to country, gospel, soul, R&B, jazz and folk.
With the festival entering its second year, co-founders Dave Willems of Willems Marketing and Cory Chisel, a national recording artist originally from Appleton, have introduced a self-submittal process which allows artists to be considered for a spot in the 2014 line-up.
Interested performers can apply by filling out Mile of Music's online Artist Submission Form and submitting for review by January 31. All artists to make the final selection will be contacted by festival organizers.
"The magic of Mile of Music is that we are focusing on creating a platform for original artistry and handcrafted songs," Willems said. "We are a cover-free zone, which means the self-submittals we are seeking are those from artists who strictly perform their own material."
In its inaugural year, Mile of Music exceeded all initial expectations as over 100 artists performed at 40+ venues and more than 15,000 fans descended upon the mile-long stretch of Downtown Appleton. The positives were plenty as several host venues were packed during performances and experienced record sales days.
Additionally, as this community festival grows, proceeds will be given to two evolving funds. They will go toward the Mile of Music Education Fund to create more music opportunities with Appleton's public schools, and a separate fund to develop more creative activities within the Downtown district.
"We were blown away by the incredible turnout in the first year," Willems said. "It was especially gratifying to see how much this single event provided a boost to our community and to so many local businesses."
Chisel was among the Mile of Music headline performers with his band The Wandering Sons appearing at the Lawrence Memorial Chapel. The fan-favorite original music event also featured The Candles, Spacewoman, Adriel Denae and a surprise performance by Norah Jones. Rodney Crowell, Justin Townes Earle and Nicole Atkins joined the artist line-up. "The first year offered a really exceptional roster of talent," Willems explained. "Our intent for Mile 2 is to keep this exciting mix of music coming."
The Mile of Music is an artisan festival that kicked off in August 2013 and featured over 100 singer-songwriters and bands performing live in Downtown Appleton, Wis. It is a collaborative event that was co-founded by Nashville-based national recording artist Cory Chisel and organized among several organizations and individuals throughout the Appleton area community. For volunteer, sponsor, ticket or other event information about Mile 2 in 2014, visit http://www.mileofmusic.com.